Christopher Street West (CSW), which continues to face heat for high ticket prices and what some see as exclusionary programming at this year's L.A. Pride event, now has competition. The DTLA Proud Festival is scheduled for Aug. 7 at Pershing Square Park in downtown Los Angeles.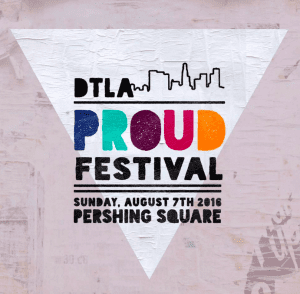 In an announcement of the event, DTLA Proud said that "through community partners, the festival will showcase the best that downtown has to offer through 40 community booths (10 local restaurants, 15 local retail shops and 15 LGBT community groups), a main stage programmed by the burgeoning and established LGBT nightlife, and grounded by a pop-up water park for all to enjoy."
"Our goal is to create a festival that represents the diverse LGBTQ population that lives, works and plays downtown."
There were complaints about the cost of attending the L.A. Pride festival at West Hollywood Park this year. (L.A. Pride admission initially was set at $35 for Saturday and Sunday, up 40% from last year, then lowered to $30 after protests.) By contrast, DTLA Proud is offering tickets purchased in advance for only $5, a 50% discount for the $10 price the day of the event.  It is clear from the group's website that its programming is considerably smaller than that of L.A. Pride and will not include a parade. Many of the events associated with the DTLA festival will be staged at downtown Los Angeles gay bars such as Precinct, Redline and Bar Mattachine, which have helped the area quickly develop a reputation as the place to go for gay hipsters.
DTLA Proud's list of entertainers includes locally popular figures such as the Boulet Brothers (master of ceremonies), who are responsible for programming at Precinct. DJs listed include Josh Peace, Cazwell, Chris Bowen and Victor Rodriguez, Rubin Sanchez and James Cerne. Performers include Jackie Beat, Calpernia Adams, Tito Soto, Sisters of Perpetual Indulgence, Bearonce Knows and the Steve Taylor Band.
DTLA Proud lists as partners community groups such as the Trans Latin@ Coalition, Bienestar, APAIT and St. John's Transgender Health Program. Members of APAIT and Trans Latin@ Coalition had called for a boycott of L.A. Pride when CSW's new management announced it was converting the event into a music festival aimed at millennials, which would require CSW to reduce programming for transgender, lesbian and other LGBT groups. CSW backed away somewhat after an outcry from members of the LGBT community and threats of a boycott.
DTLA Proud offers sponsorships at prices ranging from $100 to $20,000, with the most expensive option offering stage and venue banner presentation, a social hour with the DTLA Proud leadership, an opportunity for the sponsor to speak at the event, recognition online and in print and 20 free tickets.
It is unclear at this point whether the DTLA Proud festival will have an impact on L.A. Pride, which is a major revenue generator for West Hollywood businesses. A study of the city's major special events conducted by Conventions, Sports & Leisure International (CSL) shows that Pride is the largest revenue generator by far, with the 2014 event resulting in more than $5 million being spent in West Hollywood during the 2014 LA Pride parade and festival — money that would not have been spent in the city's bars, restaurants, hotels and shops without the event. By contrast, the annual Halloween Carnaval generated $2.3 million in new spending in WeHo. L.A. Pride costs the City of West Hollywood roughly $600,000 in lost revenue from parking meters and for street cleaning, public safety services and other services.
Last Wednesday's community discussion about L.A. Pride, proposed by Mayor Lauren Meister and City Councilmember John D'Amico, will be followed by another community meeting on Aug. 17 at 6:30 p.m. at the West Hollywood Park Auditorium, 647 N. San Vicente Blvd. south of Santa Monica. Meister said that event will focus not on problems with the past event but on the next one. Meister has invited those who can't attend the meeting to offer their opinions on L.A. Pride through a survey on the city's website.