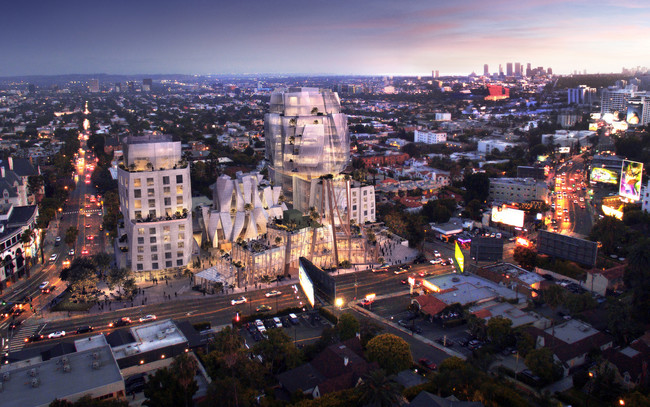 The L.A. City Planning Commission voted unanimously yesterday to approve the project at 8150 Sunset Blvd. that has drawn opposition from nearby West Hollywood residents and objections from the City of West Hollywood.
The project is being developed by Townscape Partners, whose 8899 Beverly Blvd. project in West Hollywood also has been very contentious.
The L.A. Planning Commission was asked to approve the developer's proposal to triple the permissible square footage of the building in relation to the size of its lot ("floor-area ratio"). The lot is at the southeast corner of Sunset and Crescent Heights Boulevard. Townscape has proposed five buildings with a total of 249 housing units and the rest devoted to retail and other commercial use. Townscape has offered to make 28 of the housing units available to lower-income people in exchange for permission to triple the allowed building size.
The planning commission granted Townscape the extra square footage in exchange for adding ten more "workforce" housing units, which are defined as housing for families of four whose income is roughly between $56,000 and $67,000 a year.
The project now will go before the L.A. City Council's Planning and Land Use Management committee and, if approved by it, to a vote of the L.A. City Council. David Ryu, the L.A. council member who represents the district in which the project lies, has raised objections to the project. In an interview with the Loz Feliz Ledger, Sarah Dusseault, Ryu's chief of staff, said that adding three more affordable housing units wasn't enough, noting that Townscape had estimated it would make $52 million from the project. "They needed to recalculate and make a more thoughtful analysis for what we are getting in exchange for the affordable," housing she said.
In its appeal to the planning commission, the City of West Hollywood focused on the impact of traffic from the project. It is forecast to generate 3,314 a day, 18 more than are generated by the businesses on the site now. West Hollywood's traffic-specific requests including asking that the developer eliminate site access along Havenhurst Drive, require deliveries and services (i.e. trash collection, moving vans, etc.) to only enter and leave the project via the driveways on Sunset and Crescent Heights and fund an upgrading of the traffic signal controller equipment, replacing existing controllers with more modern Type 2070 controllers, and installing battery back-up systems for Fountain Avenue intersections with traffic signals at La Cienega, Crescent Heights, Sweetzer, Olive and Laurel.
Opposition to the 8150 Sunset project has eased somewhat with Townscape's design to engage noted architect Frank Gehry to design it.
"Frank Gehry's design will provide much-needed, high quality residences, as well as create a new destination for shopping and eating in the city," Townscape partner John Irwin said in a press release. "This is the right direction for development in L.A., embracing both the benefits of good planning—as well as a commitment to providing affordable housing at varying income levels, which we have agreed to increase at the recommendation of the commission."