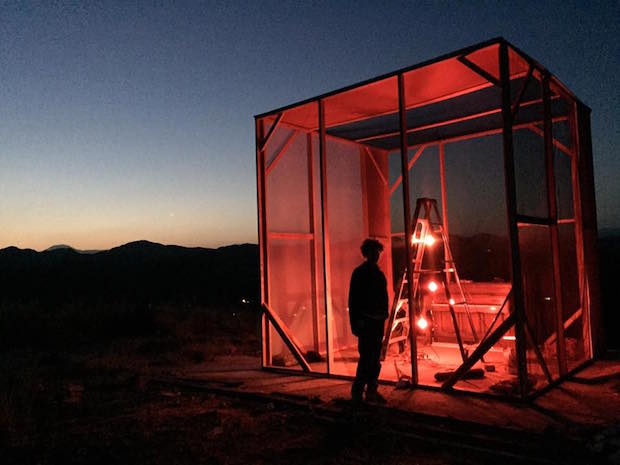 West Hollywood's Art on the Outside program will bring life (literally) to the Sunset Strip with the installation this month of a performance piece titled "The Cube" by Manuel Lima.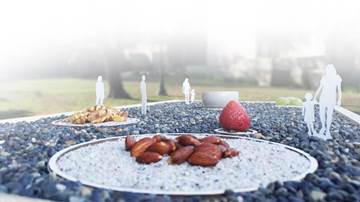 It is one of three major installations in the city in August. "Food-Prints" by Brett Snyder, Edward Morris and Sussanah Sayler, scheduled for installation on Wednesday, is described as "a whimsical zen-like dry garden comprising wooden sculptures of some of California's most abundant native agricultural products." Food-Prints is the third and final work in "Can You Dig It?," the temporary land art exhibition in Plummer Park conceived to address the drought. Food-Prints places each food sculpture in a circle sized for its relative virtual water footprint, in an overall exhibition area based on the proportions and layout of the Ryoan-ji, Japan's most famous zen rock garden. The artists' intent is to show how our most precious natural resource, water, is directly correlated to what we eat. They see the installation's proximity to the park's farmer's market as both a validation of the efforts of the produce vendors and a reference to the history of the Plummer Park, which was once a farm. There will be a guide comparing the water footprint of each food item, as well as the entire footprint of the rectangular art zone, which represents the virtual water for a single piece of steak
"The Cube" is a 10-day performance piece (Aug. 12 – 21) by Brazilian-born artist, pianist and composer Manuel Lima, who will live around the clock in a translucent, sparsely furnished 10-foot-square cube to be installed on the Sunset Strip at the public parking lot at 8775 Sunset Blvd. According to a city press release, "Lima's intent is to integrate daily life with art, take his creative process out of a formal space and undergo a profoundly personal transition – a meditation of sorts – in a very public space." Lima's only time outside the cube will be for a daily shower and breakfast each morning and occasional rest breaks. He will perform his "Sunset Blvd." composition from 9 a.m. to 5 p.m. each day, where he repeatedly moves from left to right on the FM dial, improvising five-minute piano segments riffing off what he hears. From 5 to 7 p.m., he will take break for tea outside the cube, making himself available for people to drop by and talk with him. Around 8 p.m., Lima will perform "Red Light Piano," a light and sound composition built with 60 music cycles, each from one to five minutes, with variations increasing its length each day. Ultimately, it will be five hours long. Near midnight, Lima will sleep.
Lima received a full scholarship from the Brazilian government to attend graduate school in the U.S. and recently earned his Performer/Composer DMA (Doctor of Musical Arts) degree from Cal Arts in Valencia. Earlier this year, he performed a 10-day trial for "The Cube" in the hills outside Valencia. With his performance in West Hollywood, the urban landscape will bring new challenges to the metamorphosis he undergoes.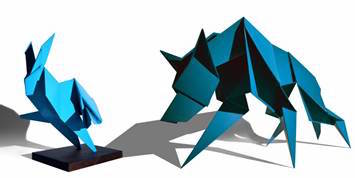 "The Chase," by Los Angeles-based public artist Hacer, comprises four monumental, origami-inspired steel sculptures dramatizing the quest for survival. To be installed Aug. 20-21, the quartet of powder-coated pieces begins on the median of Santa Monica Boulevard at Doheny Drive as the predatory "Coyote, Stalking" looks east at its prey, "Rabbit Sitting" – the latter unaware of the danger as it scouts for food. The next pair of sculptures continues the psychological narrative as "Coyote, Running" banks a fierce turn to gain on "Rabbit, Running," who faces the eyes of its hunter. The series concludes open-ended, without a victor – whether the viewer relates to the coyote or to the rabbit, "The Chase" is meant to be viewed through a lens of commonality rather than difference, as each animal fights to survive in the face of limited natural resources. In his artist's statement, Hacer explains his inspiration after reading Sadako and the Thousand Paper Cranes as a child – "Born to teenage, Mexican-American gang members, I was abandoned at three months old and placed in a series of foster homes. I was lost in a lifestyle of violence/drug abuse, which I escaped by creating a playful world that evolved from origami cranes.