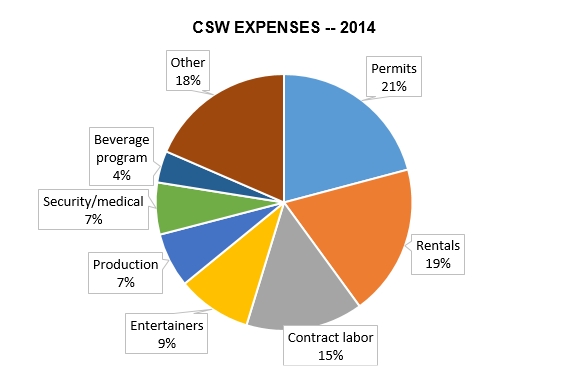 The organizer of the L.A. Pride parade and festival in West Hollywood spent $2.4 million in 2014, a 25% increase from the prior year. That is according to a new analysis by WeHo by the Numbers of publicly available tax returns.
A non-profit group, Christopher Street West Association Inc. (CSW), is the Pride organizer. The 2014 total included half a million dollars in fees waived by the City of West Hollywood, so CSW's cash spending was below $2 million.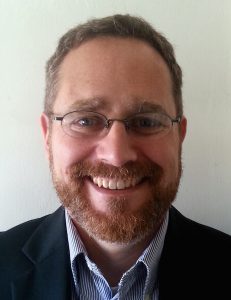 By comparison, the Pride organizers in New York and San Francisco spent $1.6 million each, excluding grants made to other groups. San Diego's spending was $1.4 million. Some organizers had much smaller budgets. For example, the Boston group spent less than $300,000. Presumably, there were differences in the scale and scope of events and/or responsibilities of those organizers versus CSW.
The analysis calculated how much CSW's spending had grown over different periods ending in 2014. It grew 25% in one year. It rose more than 50% over three years. It increased almost 75% from 2007 to 2014, a seven-year period.
In 2014 at least, CSW's spending increase wasn't unusual. That same year, spending grew roughly 20% in Atlanta, 30% in Washington, D.C. and 50% in Houston.
The analysis also looked at the big categories of spending. The single biggest item was the $500,000 non-cash item for fees waived by the City of West Hollywood. This item was 21% of total spending.
Other items included 19% for rentals, 15% for labor, 9% for entertainers, 7% for production, 7% for security/medical and 4% for the beverage program. Together, those items made up 61% of spending and almost $1.5 million.
The remaining 18% was for a wide range items. Examples include advertising/communications, insurance, office expenses, bank fees and accounting/legal services.
CSW's $225,000 for entertainers was much more than Atlanta's roughly $120,000, Boston's $100,000 or so, and Washington, DC's $85,000. The numbers were not available for cities like New York or San Diego.
CSW didn't spend any money on employees in 2014. That was also true in Boston, Houston, and Washington, D.C.
For an analysis of CSW's revenue sources, please see the WeHo by the Numbers article, What does CSW spend on Pride?