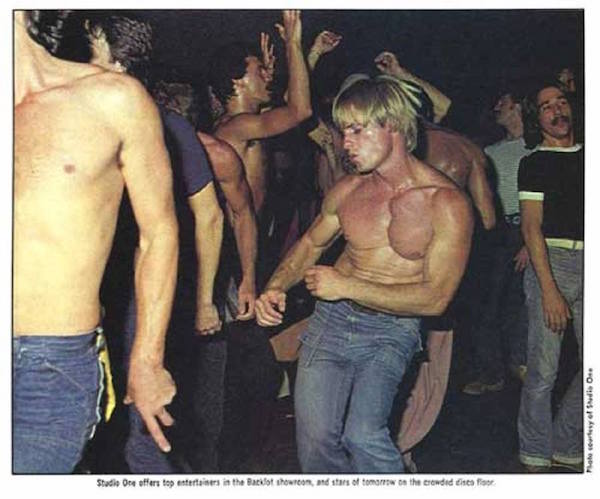 The noted Spanish philosopher George Santayana, a gay man, famously declared, "Those who forget the past are doomed to repeat it." Historical amnesia is found everywhere today, including West Hollywood, the land of the narcissistic present tense.
For some Studio One was legendary, for many more it was infamous. It was located centrally in West Hollywood on Robertson across the street from today's Abbey, with a dance floor that could hold 1,000 disco divas. The 1970's were its golden years, where, with sizzling new disco music, every night was infected with Saturday Night Fever. At that time, It was Mecca for gay twinks and young male adults of a certain bland skin color. Attached to Studio One was "The Backlot" supper club where Nancy Reagan and her homegirls and other celebrities and wannabes hung out.
In a conversation with me around 1973, Scott Forbes, its owner, explained that he was originally planning to open a basically straight disco at the site. He changed his mind when club owners started giving him feedback that straight men go out to clubs only on weekends to blow off steam, leading to fist fights and raucous behavior. Gay men, however, go out dancing every night, grateful that there is a place for them, spend more money and are not a behavior control problem. So Studio One opened as a gay disco.
Its Achilles heel, however, which eventually resulted in an organized revolt against it and dirtied its reputation, was its Jim Crow admission policy. West Hollywood then was a white enclave with a checkered race relations history, particularly when people of color tried to rent there. Forbes wanted gay, white men as his preferred customers at Studio One and, with his racist and sexist beliefs, he thought gay blacks and women would drive them away.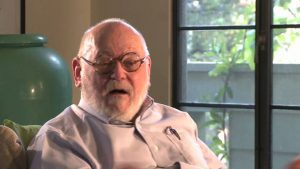 Studio One doormen subjected African-Americans to a different admission requirement than whites, echoing Jim Crow. White men did not have to show age/photo ID if doormen knew them and one piece if he didn't, a driver's license sufficing. African-American men had to show two pieces of age/photo ID, a driver's license alone was insufficient. When gay black men quickly got hip to the racist jive going on, they would show up prepared with two pieces of age/photo ID. On the spot, they were then suddenly required to show three pieces of required age/photo ID, an almost impossible task for any of us. The ID scam was also used on women. In addition, they were barred on the spot by what they were wearing, like suddenly open-toe shoes were prohibited, too short shorts not allowed, long-sleeve blouses forbidden, and so the unwinnable sexist charade would continue.
The 1970's, Studio One's heyday, were also the time that marked the beginning of the at-that-time radical liberation movement by and for gay and lesbian people, nationally and locally. The revolutionary Gay Liberation Front (GLF) was leading that charge here in Los Angeles, for the first time militantly fighting back against systemically enforced heterosexual supremacy. In addition to the direct political confrontation of gay oppression, gay self-acceptance and pride was encouraged through gay consciousness-raising events, like GLF's "Gay-Ins" in Griffith Park, and gay pride marches, not parades. GLF was also central to the creation of a visible and vital gay community in Los Angeles, a community where none had ever existed before, a community in which gay people assumed responsibility for each other, through the pioneering Gay Community Services Center (GCSC, now the L.A. LGBT Center).
It was like pre-ordained destiny that Gay Liberation and kindred groups in Los Angeles and Mr. Crow and Mr. Forbes, in residence at Studio One, would fatefully meet on numerous occasions on opposite sides of picket lines on Robertson.
Now, however, I want to double-back to share how GLF directly impacted West Hollywood, making it possible for Studio One even to exist. In the Fall of 1969, forcing the successful removal of the "Fagots Stay Out" sign from Barney's Beanery was one important, familiar GLF-Metropolitan Community Church (MCC) political action. The fact the offensive sign had not been removed before then tells you something about the political consciousness of closeted homosexuals in West Hollywood before Gay Liberation.
Prior to 1970 there was also no touching, no showing affection and no dancing whatsoever by law in gay bars or gay public gatherings, always the pretense for police raids and arrests. Same-sex dancing was done in private, in secret. The only exception was GLF's defiant Friday night "Gay Funky" dances, advertised and public, started early in 1970 at the old Troopers Hall on North La Brea, which were open to everyone of all ages, including high school students who sneaked off to dance with the faeries. The intimidating LAPD periodically showed up and marched through the hall, which heretofore would have had gay people racing for the exits to avoid being arrested. We ignored them, continuing to dance in their face as an act of non-violent resistance until they sheepishly left. GLF made it clear that if they arrested one of us, they would have to arrest all 150 of us.
To further escalate defiant resistance to the same-sex touching laws and the police, in September 1970 GLF organized a pre-planned "Touch-In" at "The Farm," the most-popular gay bar then at 7974 Santa Monica Blvd. in West Hollywood (across from the now-closed French Marketplace), a mafia-owned dive. In the week before the Touch-In, both Morris Kight and I were warned by mafioso Ed Nash, the bar's owner, that if we didn't want to meet with any "accidents," we should call it off. We didn't call it off.
At 10 p.m. on a Friday night (Sept.18, 1970), other GLFers and I,strategically placed around the packed bar, started shouting, "Reach out and touch your gay brother, show him affection, and don't budge no matter what happens. If they arrest one of us, we all go to jail."
The lights went on, the music stopped, and multiple police sirens wailed in the distance, coming closer and closer. Four sheriff's deputies, with others m waiting outside, silently, menacingly, like an army of occupation, which they were, walked through the bar slowly from front to back. Gay men with their arms around each other stood their ground without budging, continuing to show physical affection and glaring at the sheriff's deputies. To break the silence, I started chanting, with everyone joining in over and over again, "Ho Ho, Ho Chi Minh, GLF is going to win." The deputies walked out and drove away. The lights went off, the music resumed and the rest is gay history.
The next night GLF marched down Santa Monica Boulevard from Plummer Park to Robertson, with GLF's "commie-jew-fag-bastard kazoo band" playing show tunes, posting pre-printed posters on the doors and inside every gay business establishment. The posters were headed with the words "This Bar Is Liberated." Within months showing physical affection and dancing were happening for the first time in gay bars all over the city, ultimately allowing places like Studio One to open.
In my half-century of community organizing on behalf of gay people, there has never ever been a moment when I was prouder of my gay brothers than that night in 1970 at The Farm in West Hollywood. It was Gandhi's ahimsa and King's non-violent resistance at its finest.
Most of the men and women who were involved in early Gay Liberation were from the MacArthur Park-Echo Park-Silverlake-Hollywood-North Hollywood corridor. West Hollywood was the last gay area to get aboard the gay liberation train. Indeed, most of the early opposition to and bad-mouthing of GLF by other gay people came from the closeted, gay and lesbian bourgeoisie of West Hollywood. They tried to put us down by calling us Marxists, anarchists, revolutionaries, long-hair hippies, angry, dope smoking, advocates of free sex and free clinics, supporters of the Black Panthers, Malcolm X, the Brown Berets and the Chicano Moratorium, militantly opposed to the Vietnam war, advocates of a gay counterculture outside of capitalism, and worse. Of course, it was all true.
It was largely due to the intervention of West Hollywood attorney and real estate magnate Sheldon Andelson, one of the earliest and longest-serving members of GLCS's board of directors, that West Hollywood woke up. One of West Hollywood's shadowy power elite, Andelson was radicalized, in his fashion and in his way, by his contact with Kight and me. He had never met intelligent, uppity, self-affirming, politically radical, fighting back, serving the people, joyously out gay men like us before and he was fundamentally transfixed and transformed.
It was Andelson's bridging that made it possible for West Hollywood, apprehensively at first, to approach the gay liberation revolution that was happening all around it. At its core, West Hollywood is a basically conservative city with moderate civic window dressing provided by gay and lesbian assimilationists as a public persona.
Studio One's bigoted, racist and sexist behavior and the fight against it by militant social change activists should be seen within the above historical context. Ad hoc groups of black gay people, women's groups, and groups composed of all peoples and races periodically picketed Studio One and spoke about its social injustice, drawing more and more participants each time. There always seemed to be a few people out there handing out educational leaflets explaining the disco's discriminatory practices. The tide really began to turn when the Los Angeles Times did an expose on Studio One's racist and sexist policies, confronting Crow and Forbes on a much larger scale than ever before.
In the mid-1970's Andelson was central to getting Forbes on GCSC's board of directors, arguing it would make him more socially responsible for the welfare of all gay people as it had done for Andelson. I was the founding executive director of GCSC and had several very heated confrontations with Forbes over his practices with Andelson doing his best to referee. Forbes soon left the GCSC Board.
There was an amelioration in those discriminatory practices over time, but they never really disappeared. Forbes had the habit of making vows about change but not following through with his promises. In the early 1990's Studio One was sold by Forbes, continuing as a disco renamed "Axis" with Jim Crow packing his bags and disgracefully moving out.
To even suggest that Studio One deserves U.S. historical marker status is an insult to the intelligence and integrity of the Gay Liberation movement. It is a mockery of social justice for gay and lesbian people, particularly gay black men and women. To suggest, as former West Hollywood City Councilmember Steve Martin did recently, that the young white gay males dancing at Studio One were the "shock troops" of gay liberation was self-serving, ludicrous and surreal.
The real shock troops of our movement in West Hollywood were the courageous young people at GLF's Friday night "Gay Funky" dances who, courting arrest, kept dancing in defiance of the LAPD's presence and the brave gay men at The Farm "Touch-In" who, through their active solidarity and defiant resistance by embracing each other, said to the sheriff's deputies, "No More!"
Don Kilhefner, Ph.D., has played a continuously important role in the political, communal, intellectual and spiritual life of gay people in Los Angeles for the past 50 years. In 1969 he had a pioneering role in the creation of the Gay Liberation movement in Los Angeles and nationally. He also is the co-founder (with Morris Kight) of L.A.'s LGBT Center, the Van Ness Recovery House and numerous other seminal organizations including (with Harry Hay) the Radical Faeries, an international gay-centered consciousness movement. During the past 15 years he has organized around age apartheid in the gay and larger society. Currently, he is successfully functioning as a gay tribal elder. Don is also a Jungian depth psychologist and working on a book titled "You'll Never Be Alone Again: Gay Liberation, Community, Identity (Los Angeles, 1969-1979)".