At the recent National Night Out celebration and picnic of the West Hollywood West Residents Association, Jeanne Dobrin asked me why I hadn't written anything about birds for some time. I replied that I wasn't sure if the singular online source of WeHo happenings would find space for a piece on local wildlife, especially birds. However, I said I'd give it a try – and here it is.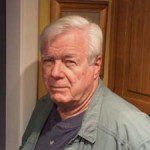 Feeding wild birds is often a gratifying endeavor. Not just as a work of conscience, you know, helping Mother Nature maintain some sort of balance in the natural world. Rather, one can find delight in watching the daily lives of other species, especially birds. Once they have been attracted to a certain place, the word soon gets out and a crowd gathers, several species somehow managing to get along – but not always. In breeding season, for instance, male finches are notorious scrappers as the annual sorting out of nesting partners begins.
I hadn't put out bird feeders for several years but was inspired after visiting a friend's new house in a wild part of Colorado. He had put out a couple of hummingbird feeders, and his front deck was crowded with ruby-throat hummers zipping very close to us and hovering at the feeders. Not a moment of daylight when they were not abound. At a nearby stream and on his hundred acres countless birds of many species would flash their colors and sing their songs. Who could not be delighted? I determined to get back into the wild bird feeding business as soon as I returned home.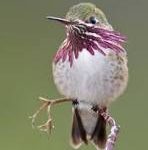 There are some caveats to attracting and feeding wild birds in West Hollywood. The hard-scrabble appearance of the place, concrete, asphalt and the slow disappearance of grassy lawns and water-hungry shrubbery could well be a deterrent for creatures used to foraging for insects and seeds. Moreover, water was not as available as it once was. But, West Hollywood was once the home of the Los Angeles branch of the National Audubon Society, and there must be others who enjoy the company of feathered critters. So, I decided to set up a caged tube feeder (that's one which squirrels cannot usually penetrate), hanging it from an interior branch on our lime tree. Further, I purchased a device that holds a gallon of water and dispenses it on demand into four little cups attached at the base of the gadget. I set up another tube feeder on a pole with a squirrel guard, hoping that it might survive any attacks by that rodent. Our local Petco has a fairly wide range of wild bird food, and I loaded up the larder.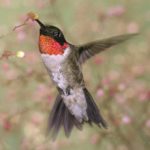 Word spreads rapidly in the avian community, and within two weeks a regular parade of birds appeared daily. (My long-suffering wife (old men in our current culture don't have much ____ and we are often depicted as sitting in a rocker or whittling on sticks and staring at the horizon) was, at least, happy that I had found something of (questionable?) value to occupy some of my waking hours.) Within three weeks, the parade became very interesting as varied species chowed down on my offerings.
There had always been on our block a mockingbird, scolding every other living creature; a small flight of California gnatcatchers making both a dawn and a dusk run for bugs in the shrubbery; a couple of ruby-throated hummers, and a plethora of house finches. Now, I could see the following flitting in and out: Bewick's wren, a junco, mourning dove, a collared dove, calliope hummingbird (in nest), California towhee, ruby-throats, purple finch and white-crowned sparrow. Overhead, attracted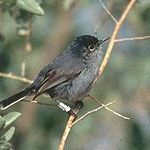 by all the other birds, I would spot now and then a pair of red-tailed hawks circling, and a few times one of my favorite birds of prey, the beautiful American kestrel. I do not spend hours watching, just 30 minutes is enough to life up my spirits as I observe their scurrying and fussing and listen to the birdsong.
All is not without some effort and expense – expense of time, mostly, as birds are messy, pooping anywhere they like and strewing seed husks everywhere. I don't want to attract mice and rats, so I sweep often and keep things as clean as I can. The minor matter of a cleanup is worth every minute with the avian sector of West Hollywood wild life. And that, Jeanne, is my update on birds. Thank you for asking.