Firas Bushnaq, whose Boxaplex is one of the only shared office spaces in West Hollywood, and his Boxador business partner have sold Orbitera, a cloud-based software platform, for a reported $100 million.
The sale to Google was reported by TechCrunch. In an announcement of the purchase, Nan Boden, head of global technology partners for Google, said "Orbitera has built a strong ecosystem of enterprise software vendors delivering software to multiple clouds. This acquisition will not only improve the support of software vendors on Google Cloud Platform, but reinforces Google's support for the multi-cloud world. We're providing customers with more choice and flexibility when it comes to running their cloud environment."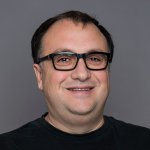 Bushnaq and Brian Singer founded Orbitera after encountering "transactional and operational challenges associated with selling software" at other tech companies where they had worked, TechCrunch reports.
It said Orbitera had raised about $2 million in funding from angels like Hiten Shah and Arjun Sethi, Double M Partners and Resolute.vc.
Orbitera's office address is the same as that of Bushnaq's Boxaplex, which is housed behind the now-closed Eat Well restaurant on Santa Monica Boulevard at Sweetzer.
Boxador has housed a number of startup businesses, included WHMC Inc., publisher of WEHOville.com and West Hollywood Magazine, in its early days.
Marcin Kurc, Orbitera's CEO, said the business is focused on providing packaging and provisioning, billing and cost optimization, marketplace and catalogs and trials and lead management cloud services.