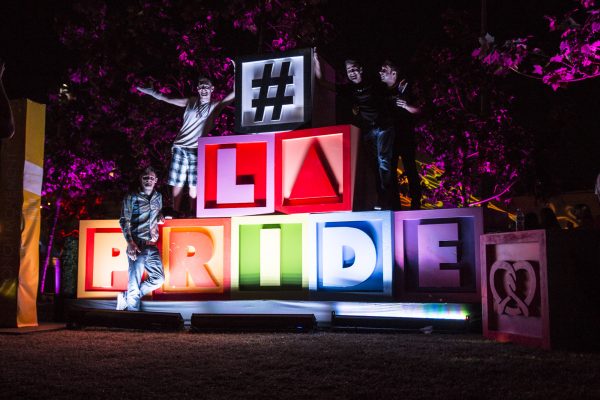 Christopher Street West (CSW), the non-profit organization that puts on the annual L.A. Pride festival and parade, lost $395,000 on this year's Pride event.
According to a copy of CSW's 2016 profit and loss statement made available to WEHOville, CSW's overall revenue was $2.1 million, 30% less than budgeted. Its overall expenses were $2.5 million, 13% less than budgeted. CSW had projected a $162,000 profit.
Major factors in the loss included a 30% shortfall in projected revenue from festival admission tickets. CSW had projected revenue of $1.3 million (44% of the total revenue from the event), but realized only $915,710. Another shortfall was in revenue anticipated from beverage sales, which at $250,000 was down 65% from the $718,000 that CSW had projected.
However CSW did do better in selling sponsorships, with revenue of $800,000 compared to the $700,000 it had budgeted. Sponsors included major brands such as Wells Fargo, Delta Airlines, Nissan and Budweiser. And it realized $93,615 in fees charged to those participating in the Pride parade, compared to the $80,000 it had budgeted.
CSW still has not released its 2015 financials, arguing that they still are under review by its accountant or auditor. And its board of directors did not discuss its financial situation in any detail last night at a meeting at which a reporter and two local residents were present. But at that meeting, board member and former CSW President Steve Ganzell referred to the 2015 Pride festival and parade as very profitable.
CSW President Chris Classen hinted at the possibility of a loss at a community meeting on July 20 to discuss the controversial Pride event but said he wasn't sure of that.  However the financial document reviewed by WEHOville was dated June 28. Residents and LGBT community members at that community meeting criticized CSW's efforts to convert the 46-year-old event into a music festival catering to Millennials, its decision to increase festival ticket prices by 40% (later somewhat reduced) and its reduction in events for the lesbian and transgender communities.
At its meeting last night, CSW board members addressed some of that criticism, with members generally agreeing to try to work more closely with LGBT community organizations going forward. Much of the conversation also focused on last weekend's DTLA Proud, the first Pride event in downtown Los Angeles. Some CSW board members noted that DTLA Proud, also a non-profit, had brought together community organizations and bar owners and promoters to stage the event. With the CSW board agreeing to work more closely with non-profit community organizations, long-time board member Ganzell withdrew his proposal to force Classen to step down from his role as president.
Another subject of last night's meeting was complaints by some board members of a lack of transparency. Andy Sacher, who is founder and CEO of the Lavender Effect, and Karina Samala, board president of the Imperial Court of Los Angeles and Hollywood and member of the L.A. Transgender Advisory Council, said major decisions were being made by only two board members — an apparent reference to Classen and Craig Bowers, who is Classen's partner in an events business. Bowers responded that board members must be willing to spend more time on Pride planning if they want to know what is going on.
Samala also complained that she has yet to receive information she requested about how much CSW contractors are being paid. Michael Carriere, CSW's treasurer, said that information is difficult to extract from the organization's bookkeeping database but that he will make it available to Samala soon. That information, however, is in the profit and loss statement obtained by WEHOville.
It shows that the festival and parade producer was paid $80,000 this year. Jeff Consoletti is the producer of the event, a role he has held for several years. Other contractual labor expenses (the recipients are not identified) are $24,000 for the operations manager for the two and a half-day festival and $17,000 for the event production coordinator. CSW paid $12,500 to an "art and heritage" coordinator. The parade production manager was paid $14,000. CSW does not request proposals from competing outside contractors and generally works with the same ones year after year.
In addition to the $80,000 paid to Consoletti, CSW paid $20,000 to someone to book performers for the event and an additional $44,300 for other entertainment staff. Those contractors were not named in the financial statement.
Other consultants and their fees were Sam Borelli, who was paid $44,000. Borelli, who has served as a consultant to CSW in the past, helped secure sponsors for the event and is likely the recipient of some if not all of $18,000 in sponsor sales commissions listed in the profit and loss statement. Mike Stommel, who has handled publicity for the event in the past, was paid $37,000. And Karan Sharma, who was the sponsorship coordinator and production assistant, was paid $9,000.
The financial statement shows a payment of $5,000 for "government consulting," which was budgeted at $12,000. That likely is the fee paid to Scott Schmidt, former campaign manager for and deputy to Mayor Lauren Meister, who has met with Meister and Councilmember John D'Amico about the community assessment of Pride that they organized. Schmidt recently ended his contract CSW, citing his concern about the perception of a conflict of interest given his relationship with Meister.
Fees for entertainers totaled $469,753, or 19% of overall expenses, with $4,550 spent on the transgender celebration, $45,925 on hip hop artists and hosts, $52,353 on Latin artists and hosts and $344,950 spent on more general entertainers and hosts.
The financial statement also shows that CSW, which has no full time staff, has spent $6,000 of a budgeted $13,500 to lease its small office at the Pacific Design Center and $30,731 to renovate the space. It spent an additional $4,230 for parking and office utilities and internet and telephone service.
The City of West Hollywood, which subsidizes the Pride event with roughly $500,000 in waived fees, foregone parking meter revenue and some cash, is holding another community meeting to discuss the direction LA Pride should take going forward. That meeting is on Aug. 17 at 6:30 p.m. at the auditorium in West Hollywood Park adjacent to the library.