A federal appeals court has upheld a decision that requires two West Hollywood Sheriff's Station deputies to pay punitive damages for not properly responding to the beating of a drunk man being held in a station cell in 2009.
The Ninth Circuit Court of Appeals decision, first reported by Courthouse News, also affirmed L.A. County's responsibility to pay $840,000 in attorney's fees associated with the case.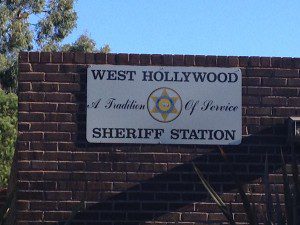 In its decision, the court said: "West Hollywood sobering cell was noncompliant in at least two respects, in that it lacked all the required padding and, more importantly for our purposes, did not 'allow for maximum visual supervision of prisoners by staff.'"
The court held that the Sheriff's Department "had notice that their customs or policies posed a substantial risk of serious harm to persons detained in the West Hollywood sobering cell and were deliberately indifferent to that risk."
Jonathan Castro was placed in that cell after being arrested in October 2009 and charged with public drunkenness. Later, deputies placed another man in the cell. That man, Jonathan Gonzalez, had been arrested for breaking a nightclub's glass door with his fist, a felony, and had been described by deputies as "combative."
Castro's suit against L.A. County and the deputies asserted that he was attacked by Gonzalez and that no one responded when he pounded on the door of the cell and yelled for help.
Eventually a community volunteer stopped by the cell and reported that Gonzalez was inappropriately touching Castro. When a deputy finally stopped by the cell, Gonzalez was found kicking Castro's head. Castro's jaw was broken and he was laying unconscious in a pool of blood. Castro was hospitalized for a month and then spent four years in a long-term care facility. According to the lawsuit, he still suffers from severe memory loss.
In its 8-3 decision, the court affirmed that deputy Christopher Solomon, the officer who eventually found Castro beaten in his cell, was liable for $6.000 in punitive damages and that his supervisor, David Valentine, is liable for $12,000 in damages. Valentine still works at the West Hollywood Sheriff's Station. As of publication WEHOville was unable to determine whether Solomon also is employed there.