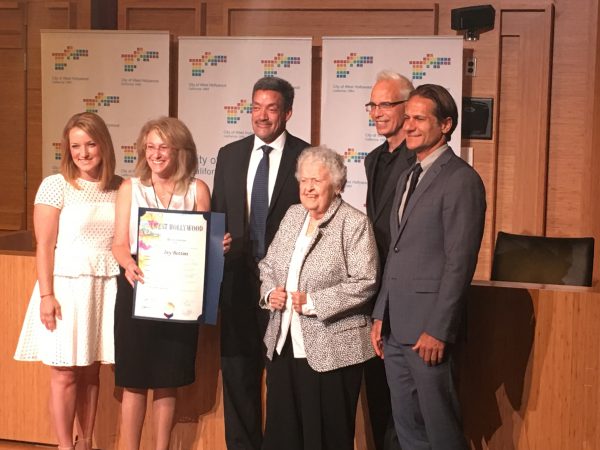 Ivy Bottini, the artist who is best known as a lesbian activist, celebrated her 90th birthday yesterday. The West Hollywood City Council marked the event with a presentation at which Bottini made some emotional remarks about the passing of some of her peers.
Bottini helped found the New York chapter of the National Organization for Women (NOW) in 1966 and was elected its president shortly thereafter. She raised lesbian issues in NOW, which in 1970 pushed her and other lesbian activists out of the organization.
Bottini then moved to Los Angeles, where she founded the AIDS Network LA, the first AIDS organization in Los Angeles, and later founded AIDS Project Los Angeles. Bottini also remained politically active, helping lead the successful fight against a campaign to ban lesbians and gay from teaching in California schools and against a campaign that would have put people with AIDS in quarantine.
For 25 years Bottini has focused on issues involving aging, serving in 1981 on the state Commission on Aging. She was a co-founder of the Gay & Lesbian Elder Housing organization, which created Triangle Square, the nation's first affordable housing for gay and lesbian older people. In 2001 she worked with a group to form the Alliance for Diverse Community Aging Services.
Among other activities in West Hollywood, Bottini served as co-hair of the city's Lesbian and Gay Advisory Board from 2000 to 2010. Recently she has been a vocal critic of changes in the annual LA Pride parade and festival that she sees as minimizing the role of lesbians and transgender people and tilting the event toward young people.
At the presentation last night, Bottini cast aside a walker she began using as she recovered from a fall leaving a Christopher Street West board meeting this Spring.
"Tonight's my first real night out with a walker," she said. "We really need to repair our sidewalks!"
"I hadn't planned on coming tonight because it was my birthday," Bottini said. "Dan said to me, I want to take you out for your birthday, and the City Council meeting, why don't we drop in?" Dan was a reference to her close friend Dan Morin.
Bottini thanked council members and residents for staying in touch while she was in a rehabilitation center for nine weeks.
"The City Council has been so generous in their caring and the community has been just .. it's hard to express how many people got in touch," Bottini said, her voice full of emotion.
She also reflected on the recent death of Mark Thompson, another noted LGBT activist and the former editor of the Advocate magazine.
"I guess the death of Mark Thompson, and a year ago Malcolm Boyd, made me rather sentimental the last couple of days. I think of all the wisdom we are losing in this community…" Bottini said.
"Eventually I will come to the end, but that's 15 years down the road," Bottini added, with a laugh. "But Troy Perry, and some people in this audience and how they've given a huge part of their life to this community! Sometimes I look around and see all the new things in this community, and I just hope that the history is remembered."
"It's the dreams, the wisdom and the work that human beings have put into this city since 1982.
"I urge all of us to keep up the fight and rail, rail against assimilation because we are LGBT, and we are very special…. Fasten the seat belts, it might be a bumpy ride."