Kim Dower, a 40-year resident of West Hollywood who describes herself as "a West Hollywood girl" who "then became a WeHo mom," has been named the city's new poet laureate.
The position, called was created two years ago and filled by Steven Reigns. Dower will assume the role in October. The city poet receives an annual stipend of $2,500 and is tasked with generating excitement about the written word and promoting poetry in the city, including the annual celebration of National Poetry Month each April. The city poet will also create a new body of work that commemorates the diversity and dynamism of West Hollywood.
"I would love to create one long city poem 'Song of West Hollywood,' using lines given to me by West Hollywood residents and people visiting, shopping and hanging around in the area, " Dower said in her application for the position.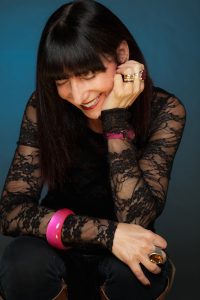 Dower was the unanimous choice of a committee that included local poets, city arts administrators and those associated with the West Hollywood Library. Among the attributes they cited was that her poetry has been published, that she has organized panels for the city's former book fair, that she is a long-time resident of WeHo and that her poetry is "fun, enjoyable and a good read."
In her application, Dower described the evolution of her life in WeHo after moving from the East Coast:
"My first apartment was at 1140 North Clark Street up the hill from the famous Whiskey, where back then Bruce Springsteen and Blondie would 'practice' and anyone could walk in and watch. I would spend hours at the then brand new Book Soup, sit on the little staircase reading and writing poetry. Years later, when my first book of poetry was published by Red Hen Press, I had my launch reading and party at Book Soup."
"Our son's first playground was West Hollywood Park, my mother, who also moved from back east, lived in WeHo and would use the services provided at Plummer Park.
"As a professional book publicist with my own company, Kim-from-LA  (offices on the WeHo border – Gardner and Melrose) I've participated in many WeHo literary events and played a large part in all the West Hollywood Book Fairs. I've been on poetry panels, literary panels, publicity panels. I am proud to say I own a home here and have been shopping at Gelson's since it was Mayfair Market!! A non-fiction book that I co-wrote, 'Life is a Series of Presentations,' was launched at the wonderful, sadly missed Sodhi Tree – more more more West Hollywood."
Dower teaches poetry workshops at Antioch University. Her first collection of poetry, "Air Kissing on Mars," (Red Hen Press, 2010) was on the Poetry Foundation's Contemporary Best Sellers list, and was described by the Los Angeles Times as, "sensual and evocative … seamlessly combining humor and heartache." "Slice of Moon," her second collection, (Red Hen Press, 2013), nominated for a Pushcart, was called, "unexpected and sublime," by "O" magazine, and her third collection, "Last Train to the Missing Planet" (Red Hen Press, 2016) has been praised by … Richard Blanco, as well as by Garrison Keillor, who has featured her work several times on "The Writer's Almanac."
Other contestants were Larry Block, Charles Flowers, Mitchell Kohn, Felice Picano, Linda Ravenswood, Danielle Shorr and Brian Sonia-Wallace.