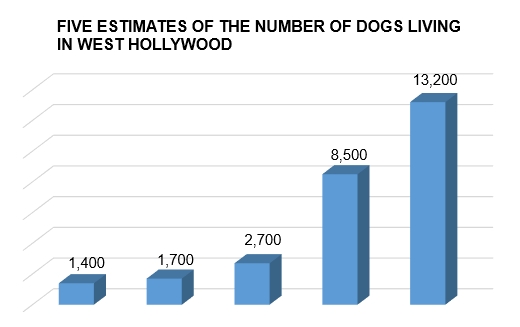 There are probably at least 2,700 dogs in West Hollywood and maybe significantly more. That is the conclusion of a new analysis by WeHo by the Numbers. The analysis offers five different estimates, ranging from 1,400 to 13,200.
The first estimate is based on dog license data gathered by KCRW, a public radio station. It assembled a database of over 400,000 dogs licensed in Los Angeles County in 2013. Its database lists 869 dogs in the 90069 zip code.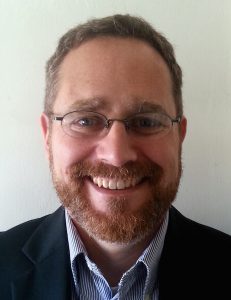 But West Hollywood is bigger than 90069. It covers parts of three other zip codes. Since West Hollywood represents 17% of the households in those three zip codes, the estimate includes 17% of their dog licenses plus the 869 in 90069. The result is an estimate of less than 1,400 licensed dogs in West Hollywood. The numbers are rounded because the estimates aren't precise.
The Los Angeles Times compiled a similar database in 2008. It counted 1,189 licensed dogs in the 90069 zip code. The decrease from 2008 to 2013 could be due to methodological differences, a drop in compliance, or an actual decline in the number of dogs.
The next three estimates are based on assumptions about what percentage of dogs are actually licensed. According to KCRW, some local agencies believe that 50% to 80% of dogs are licensed. If that were true in West Hollywood, then the city would have 1,700 to 2,700 dogs total, counting both licensed and unlicensed dogs.
However, an economist for the Humane Society has estimated that only 16% of dogs are licensed in California. If that were true in West Hollywood, then the city would have about 8,500 dogs in total.
The final estimate is based on a 2012 nationwide survey by the American Veterinary Medical Association, a trade group for veterinarians. According to the survey, 36.5% of U.S. households have dogs. Among households with dogs, there are 1.6 dogs on average. If West Hollywood households are like the average US household, then those numbers suggest the city has 8,300 households with dogs and over 13,200 dogs. That would be one dog for every three human residents.
The analysis concludes that the first estimate is too low, the last estimate is probably too high, and an educated guess would be at least 2,700 dogs and perhaps significantly more.
To see West Hollywood's most popular dog breeds and names, see the WeHo by the Numbers article How many dogs live in West Hollywood?