A prosecutor argued today that evidence proves more than 40 fires set in Hollywood, West Hollywood and the San Fernando Valley are linked to a German national bent on retaliation after his mother's arrest in the United States in connection with a criminal case in Germany.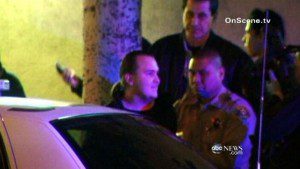 "The evidence proves that it was one person who set all of these arsons … and that was Harry Burkhart," Deputy District Attorney Sean Carney told jurors in the Los Angeles Superior Court trial of Harry Burkhart. "The motive is very clear. It was retaliation over and over again."
Burkhart, 29, is charged with 25 counts of arson of property, 19 counts of arson of an inhabited dwelling, two counts each of possession of an incendiary device and attempted arson and one count of arson of a structure.
Burkhart began purchasing incendiary devices at a Ralphs supermarket on Dec. 28, 2011, hours after his mother, Dorothee, was taken into custody, the prosecutor said.
The next day, Burkhart used an expletive against Americans during a federal court hearing for his mother, and within a couple of hours, he was buying more fire-starting devices, Carney said.
The prosecutor told jurors that Burkhart set at least 16 fires in the early morning hours of Dec. 30, choosing "targets of opportunity" in which he could easily access and place incendiary devices under the front of vehicles, light them and quickly escape. He said a device recovered from one of the car fires led investigators to determine that "they've got a serial arsonist on their hands."
"Harry Burkhart was relentless," Carney told jurors. "This is just the first night … He's really just hammering the city with arson fires."
Many of the blazes were started under vehicles parked in carports or near homes, but one vehicle was set on fire Dec. 30 in the parking lot of a shopping center "in the heart of Hollywood" and another at a complex nearby on New Year's Eve, Carney said.
"You see him. He was on a mission," the prosecutor said, telling jurors that surveillance footage from one of the parking lots provided the break that "eventually allowed Harry Burkhart to be caught."
Burkhart's DNA was found on a propane canister found at one of the attempted arson scenes and a box of matches at another scene, and identified as a "match of 1 in 150 quintillion," the deputy district attorney said.
On New Year's Day, Burkhart told his mother, "Roast America. I cannot remain calm," Carney said, noting that the one-day break in the arson fires resumed a day later with another series of blazes.
A U.S. marshal who had arrested Burkhart's mother recognized her son and gave local authorities his name after police released images of "a person of interest" in connection with the arson fires, Carney said.
Burkhart, who was born in Chechnya, was arrested Jan. 2, 2012, at Sunset Boulevard and Fairfax Avenue by a reserve sheriff's deputy who spotted his minivan.
During the trial, Carney showed jurors a photo of roughly three dozen fire starters, a barbecue lighter, Mace and a hammer found in a pack Burkhart was carrying at the time.
The prosecutor is set to wrap up his closing argument tomorrow, withmjurors then expected to hear from defense attorney Steve Schoenfield.
In his opening statement, Burkhart's lawyer said the prosecution can only tie his client to six or seven of the fires and told jurors that they would hear evidence to support the defendant's plea of not guilty by reason of insanity.
"There's no question that Mr. Carney has evidence to tie Mr. Burkhart to six or seven of these fires," Schoenfield said. He told jurors that the dozens of other fires are simply similar in terms of location and methodology.
Burkhart has pleaded both not guilty and not guilty by reason of insanity. If he is convicted, jurors will be asked to determine if he was sane at the time of the crimes.