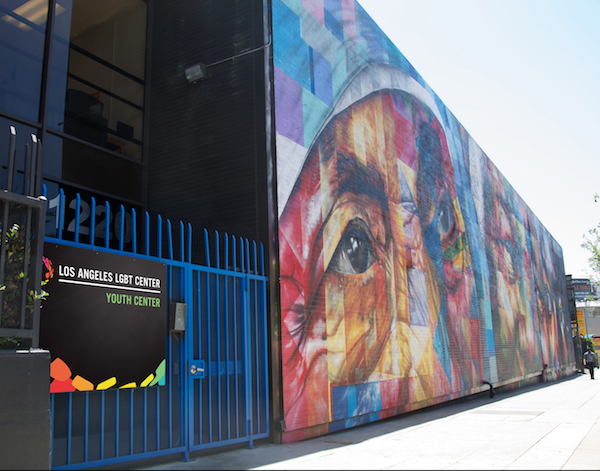 A community meeting this morning with Mayor Lauren Meister and Capt. Holly Perez of the West Hollywood Sheriff's Station was dominated by complaints about homeless people on WeHo's Eastside and what some residents see as the failure of the L.A. LGBT Center and other nearby non-profits to monitor the behavior of homeless people they serve.
Tod Hallman, an Eastside resident who is a member of the Eastside Working Group, said homeless young people and adults who receive services at the Center's Youth Center on Highland Avenue, at Michael's Village on Sunset Boulevard and at Friends Community Center on La Brea Avenue drift west across La Brea and into WeHo. Several West Hollywood residents spoke about being accosted or threatened by homeless people in their Eastside neighborhoods, with Detroit and Formosa avenues mentioned often as places where the homeless go. Residents of Los Angeles just east of La Brea also attended the meeting and shared similar stories.
Michael Soleimani, who has invested in property east of La Brea, said he had almost been stabbed by a homeless person and that another also threatened to assault him. Soleimani described the instigators as "a bunch of African-American transients." Other speakers said many of the homeless people causing trouble in their neighborhoods appear to be transgender, a group served by the three non-profit organizations east of La Brea.
The L.A. LGBT Center's Youth Center on Highland offers support for homeless young people ages 24 and under who need a place to stay for a night or up to 36 nights. It also provides three meals a day, clothing, an education program and an employment preparation, training and placement program. It has a 24-bed transitional living program were young people can stay for up to 18 months.
One speaker, who said he lived on Las Palmas on the Hollywood side of La Brea, criticized the Center's plans to expand with development of a project on McCadden Place that would provide room to serve more homeless young people and seniors. It would include 100 affordable housing units for seniors, up to 35 affordable housing units for young people ages 18-24, and 55 transitional living and emergency guest rooms with a capacity for 100 beds (including 60 transitional living beds and 40 emergency overnight beds).
"It's irresponsible for them to start to build a bigger center in a neighborhood with prostitution and drug abuse," he said.
Hallman said the City of West Hollywood needs to hold non-profits that it funds accountable for the behavior of homeless people in the neighborhood. "If we're giving money, then some damn body is accountable," he said.
Meister agreed. "The L.A. LGBT Center, if they want our funding, they need to be more responsible for what happens when people leave their center," she said. Meister noted that the City Council at its Sept. 19 meeting will receive a proposal for allocating $4.5 million for social services programs and contracts, which includes money for the Center.
West Hollywood contracts with the L.A. LGBT Center's Youth Center for services for homeless young people and with Step Up on Second, the non-profit organization that runs Michael's Village, to provide teams who reach out to homeless people to offer a variety of services, including mental health and drug abuse services.
Step Up on Second, a Santa Monica-based non-profit that provides support for the mentally ill, opened Michael's Village in 2012 on North Formosa Avenue near Sunset Boulevard to house a couple dozen homeless mentally ill people. Not long after its opening, Michael's Village was criticized for not controlling its visitors who nearby residents said were coming into their property.
Jim Key, chief marketing officer for the L.A. LGBT Center, issued a statement today in response to this morning's criticism:  "The Center's services for homeless LGBT youth are specifically designed to help young people make the transition from living on the streets to living successfully in their own place," he said. "Through our employment and job placement program, addiction recovery and counseling services, and our new high school and GED preparation program—among many other services—we're transforming lives for homeless LGBT youth. We always welcome comments and questions from community members regarding our work and welcome visitors to the Center who'd like to see first-hand what we do."
Meister told those at this morning's meeting that West Hollywood has limited control over homeless people outside the city's borders. She said she has met with David Ryu, the L.A. City Council member whose District 4 encompassed the area east of La Brea that was under discussion. Meister urged those living there to appeal to the Los Angeles City Council to act.