A German national was convicted Thursday of nearly 50 felony charges for setting more than 40 fires in West Hollywood, Hollywood and the San Fernando Valley nearly five years ago.
A second phase of trial of Harry Burkhart, 29, will begin Tuesday, when jurors will be asked to determine if he was sane at the time of the crimes.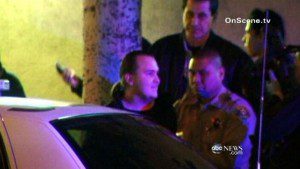 Burkhart, who pleaded not guilty by reason of insanity, was convicted of starting the fires between Dec. 30, 2011, and Jan. 2, 2012.
The six-man, six-woman jury began deliberating just before 10:30 a.m. Wednesday, and the panel left for the day at the lunch break at a juror's request, then resumed deliberating this morning.
Jurors convicted Burkhart of 25 counts of arson of property, 19 counts of arson of an inhabited dwelling, two counts each of possession of an incendiary device and attempted arson and one count of arson of a structure.
Most of the blazes were started under vehicles parked in carports or near homes, but one vehicle was set on fire Dec. 30 in the parking lot of a shopping center in Hollywood and another at a complex nearby on New Year's Eve.
In his closing argument, Deputy District Attorney Sean Carney told jurors that Burkhart tried to inflict "fear on the entire community" in a "quest for revenge" after his mother was arrested in the United States in connection with a criminal case in Germany.
Defense attorney Steve Schoenfield told jurors that the prosecution had presented evidence to connect his client to a handful of the crimes, but "lacked specific evidence against Harry Burkhart for the bulk of the charged arsons."
"The M/O (method of operation) is not so unique that only one person, Harry Burkhart, is capable of doing those arsons," the lawyer told the panel. "Copycats could be responsible … There are plenty of opportunists."
He said there was enough evidence to tie Burkhart to "six, possibly seven of the charged fires."
"We don't want to toss in all these other arsons that haven't been proven," Schoenfield told the jury. "They just can't do it. They just don't have the evidence. They have evidence for six of them."
In his rebuttal argument, the prosecutor said there was direct evidence that Burkhart was the "perpetrator" in six or seven of the charges against him, and "overwhelming" circumstantial evidence that he set the other fires.
"What he wants you to speculate about in this case is that there's a copycat out there," Carney said of the defense attorney's argument. "Nobody knew what combination of fire-starters Harry Burkhart was using except for the police."
He noted that the fires started right after Burkhart's mother, Dorothee, was arrested and arraigned and then stopped after Burkhart was taken into custody on Jan. 2, 2012.
"A copycat would have to know to stop lighting fires when Harry Burkhart was arrested — not a reasonable interpretation of the evidence," the deputy district attorney said.
Outside the jury's presence, Burkhart asked L.A. Superior Court Judge George G. Lomeli, "When can I give my statement to the jury?"
The judge responded that Burkhart had chosen not to testify during the trial.
"That's the way the process works here in America," Lomeli said.