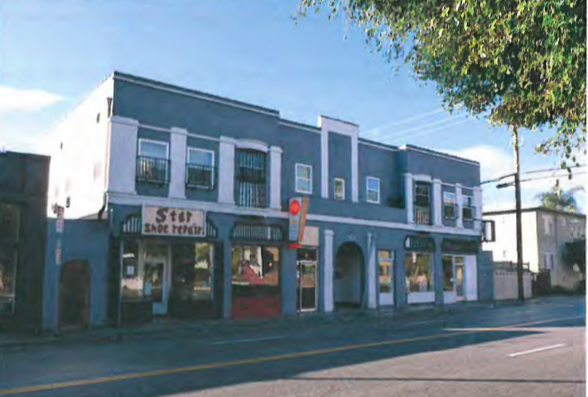 From Studs Theatre to the French Market to the Whiskey a Go Go and Sunset Plaza, a consulting firm has identified 57 non-residential properties and one commercial district in West Hollywood that may qualify for designation as historic resources at the federal, state or city level.
The firm, GPA Consulting, surveyed 763 commercial and residential buildings between November 2015 and August. Of those, 27 were commercial, institutional or industrial properties that previously had been designated historic.
Working with the city's Historic Preservation Commission, Community Development Department and community members, GPA whittled down the list of 763 properties. It used criteria for historic properties from the National Register for Historic Places, the state Register of Historical Resources and the city's Register of Cultural Resources.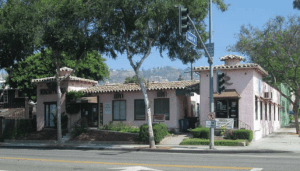 GPA also identified four segments of West Hollywood's history in order to put the buildings it evaluated into historical context. Those segments were the development of Sherman and adjacent county lands (1895 – 1925), West Hollywood (1926 – World War II); postwar West Hollywood (1946 – 1965), and modern West Hollywood (1966 – 1984.) Using traditional standards for historic designation, only properties built at least 45 years ago (i.e. prior to 1975) were considered.
GPA re-evaluated the 27 buildings already on the various historic preservation lists to see if they had been maintained in such a way as to still qualify. Of those, two buildings have been torn down and two altered in a way that would make them ineligible for historic designation. Their addresses are 8795 Sunset Blvd., 8866 Sunset Blvd., 9016 Sunset Blvd. and 9131 Sunset Blvd.
In its study, GPA calls out Sunset Plaza as worthy of designation as a commercial historic district under federal, state and city criteria. GPA notes that many of Plaza's buildings were designed in the Colonial Revival style by architect Charles Selkirk and date from the 1920s and 1930s. "Each of its buildings is a unique application of the style and together they form a cohesive whole," the report says.
The GPA study has been presented to the city's Historic Preservation Commission and last night to the Planning Commission. The Planning Commission postponed consideration of the study to allow more time for local residents and property owners to learn about it and offer their opinions and suggestions. Ultimately the GPA recommendations that are endorsed by the city's Historic Preservation Commission will be presented to the City Council for final approval.
Designation as a historical resource offers both pluses and minuses for building owners. On the plus side, they can qualify for benefits including less strict zoning requirements and a reduction of up to 50% in property taxes in exchange for rehabbing and preserving a building. On the minus side, an owner who plans to significantly alter or demolish a building designated as historic must obtain a "certificate of appropriateness" if the designation is by the City of West Hollywood. A more complex process, including an often-lengthy and expensive California Environmental Quality Act (CEQA) study can be required if a building is designated as historic by the state or federal government.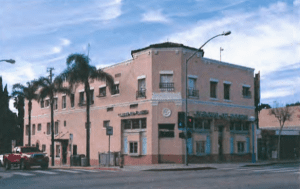 That might make designating some buildings as historic a problem for building owners and developers. For example, Faring Capital already has announced plans to demolish and build new buildings on the site of The Factory at 648 N. La Peer Drive and the French Market Place at 7985 Santa Monica Blvd. Faring's Jason Illoulian has, however, committed to preserving and restoring a large part of the Factory building.
GPA did not recommend historic designation for some buildings that local preservation activists have lobbied for. One is the former Tower Records building at 8801 Sunset Blvd., which the West Hollywood City Council already has denied to declare a cultural resource. The GPA study said that "based upon historic photographs as well as visual observation, the property retains all aspects of integrity from the period of significance except for association." Association, a direct link between a property and an important historic event or person, is one of the criteria used to evaluate the historical integrity of a building.
At last night's Planning Commission meeting, Jon Ponder, a local historian and a member of the board of directors of the West Hollywood Preservation Alliance, also asked that the Pink Taco restaurant and the Viper Room, both on Sunset Boulevard, the Macha Theatre on Kings Road and the old Ritts Furniture store building (owned by the parents of the late Herb Ritts), the Holloway Motel and the Madison Carwash on Santa Monica Boulevard be considered for historic designation.
The GPA study was essentially an update of a citywide historic resources survey completed in 1986-87 and a second survey of multi-family residential buildings completed in 2008. In addition to the study, GPA is working with the City of West Hollywood to develop a website that will offer information about historic preservation in West Hollywood, including the cultural heritage preservation ordinance, various applications and forms for historic resources and answers to frequently asked questions.
On the pages that follow are photos and brief descriptions of the 57 buildings that the GPA study recommended be considered for designation as historically significant.