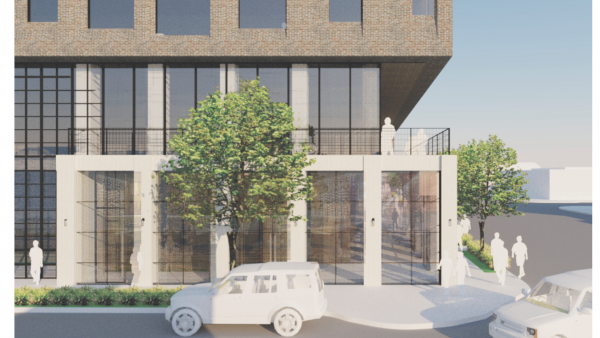 Faring  shared preliminary design drawings yesterday of the building, dubbed the Laurel Project, that it proposes for the site now occupied by the French Market Place on Santa Monica Boulevard at Laurel.
The drawings were shared at a meeting to which local residents were invited and asked for input. The four-story building will have three levels of subterranean parking. It will include 50,000 square feet of office space, 8,600 square feet of restaurant space, 4,400 square feet devoted to shops and a 3,200 square foot space for a bar.
Faring's Jason Illoulian said the building is designed with a washed out brick surface that "will feel like the building has been there a long time." The project also will include an outdoor dining area, which was one of the amenities of the French Market Place.
Illoulian said the building's office units are a major plus for West Hollywood. "There are no other proposed office projects in the area," he said. "This will help make center city into a live work play zone and reduce traffic.
"The city needs to figure out how to incentivize office development," Illoulian said. "All incentives are just for housing. Another interesting thing- WeHo parking requirements for offices are two times Los Angeles requirements. Another reason nobody builds offices."
The French Market closed its doors last year, a move that was lamented by older members of the local LGBT community. The market's French Quarter restaurant was known as a gathering place for members of the Municipal Elections Committee of Los Angeles (MECLA), a political action committee in the 1970s that raised money to support gay-friendly candidates. When news of the renovation became known in March, Rick Castro, in a posting on his blog, announced "FRENCH MARKET PLACE- THE END OF GAY." Castro is owner of Antebellum Gallery in Hollywood, which bills itself as the only fetish art gallery in the United States. The French Quarter also has long been a gathering place for members of the LGBT recovery community.The restaurant also once was a popular weekend brunch place.