Two men involved in one of West Hollywood's most bizarre crimes in recent years have pleaded guilty to stalking a WeHo esthetician.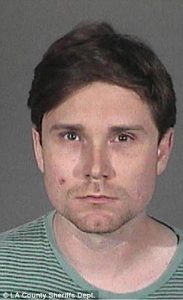 After testimony concluded in a preliminary hearing on Monday — but before a judge determined whether there was enough evidence to proceed to trial — Nicholas Frank Prugo and Edward Robert Feinstein each pleaded guilty to one misdemeanor count of stalking Dawn DaLuise, according to a court clerk.
They are set to be sentenced Oct. 24.
The pair had been charged last year with three felony counts of stalking — one for DaLuise and one each for her two adult daughters — and a separate felony charge of soliciting a man to rape the mother.
The two counts involving the daughters were dropped by prosecutors before the 12-hour preliminary hearing, which took place over four days in July and August, according to the District Attorney's Office.
The judge on Monday dismissed the solicitation charge due to insufficient evidence and reduced the final stalking charge to a misdemeanor, but did not make a final ruling before the two defendants entered their pleas in open court. There was no plea offer from prosecutors.
Prugo, 25, served a year behind bars for break-ins at the homes of actress Lindsay Lohan and reality TV star Audrina Patridge, incidents conducted by men who came to be known as the "bling ring."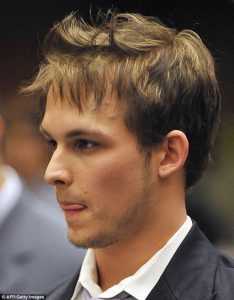 He and Feinstein, 32, are free on bail and subject to an order barring them from having any personal, electronic or telephonic contact with DaLuise, or coming within 100 yards of her or her two adult daughters.
DaLuise was acquitted in January of solicitation of murder and solicitation of assault with force likely to produce great bodily injury involving rival business owner Gabriel Suarez.
DaLuise was the owner of Skin Refinery at 8543 Santa Monica Blvd. near West Knoll. Her clients had included celebrities such as Christina Ricci, Sarah Michelle Gellar, Nicky Minaj and Jennifer Anniston (purportedly a fan of DaLuise's bikini waxes), and she has been featured in magazines such as Vogue and InStyle. Suarez opened his Smooth Cheeks skin care salon in 2013 in another suite at the same address.
Deputy District Attorney Christine Von Helmont said DaLuise had wrongly convinced herself that Suarez was responsible for stalking her. Someone had also distributed sexually explicit fliers and posted ads on Craigslist posing as DaLuise and soliciting males to act out a "rape fantasy," the prosecutor told jurors in that trial.
DaLuise's attorney, Jamon Hicks, said his client did not do anything to solicit murder. He told jurors that she "was venting. She was upset. She said some things that aren't nice," but "never intended for anybody to die. She did not want this man murdered … We all say things in the heat of the moment that we don't mean, that we wish we could take back."
Prugo and Feinstein were accused of posting an Internet ad in January 2014 soliciting someone to go to DaLuise's home and rape her.
The defense lawyer told reporters outside court last year that he believed his client met DaLuise at a Vanity Fair party following the publication of an article about the "bling ring" case.
"I think originally they had some sort of business arrangement where she was helping in some sort of a business that he had, marketing it or something, and that didn't last very long. And at that point they didn't really have much of a relationship at all," he said.