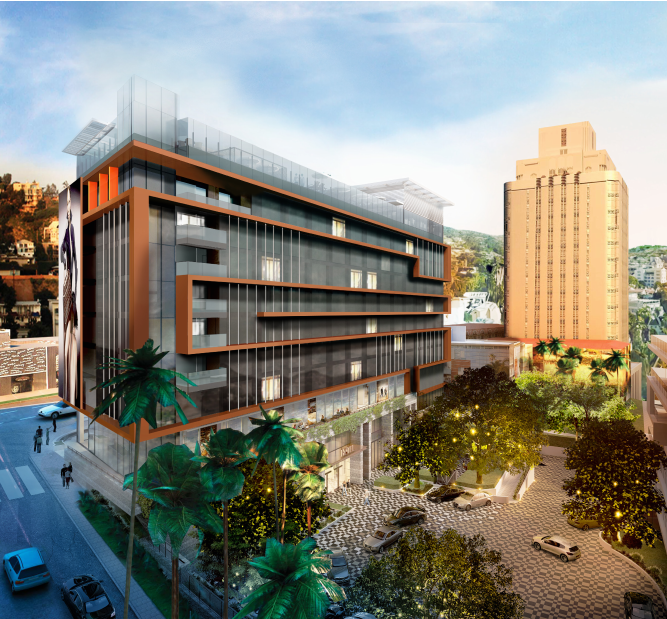 A study of West Hollywood's thriving hotel market has found that three new hotels under construction aren't likely to have much negative impact on the existing 18 hotels. The new hotels will add 581 rooms to the current supply of 2,060 rooms.
But the study shows a major impact with the construction of an additional four hotels (and the minor addition of three rooms to another) that already have been approved by city planners or currently are under review. Those hotels would add an additional 648 rooms to the market.
The study, conducted by CBRE Hotels, predicted that the hotel room occupancy rate this year would average 82% (although it already had hit 88.5% as of July). One scenario examines the addition of The James, Kimpton La Peer and Edition hotels, which already are under construction. CBRE predicts the addition of those 581 rooms would push the occupancy rate down to 77% by 2018 before it rises to 80% in 2020.
A second scenario also adds the Pendry (149 rooms) and three new rooms at the San Vicente Bungalows. CBRE projects that the combination of hotels in scenario one and scenario two would push the occupancy rate down to 75% in 2019. The study says the occupancy rate would rise to 80% in 2021. The Pendry and San Vicente projects have been approved by the city but construction hasn't begun.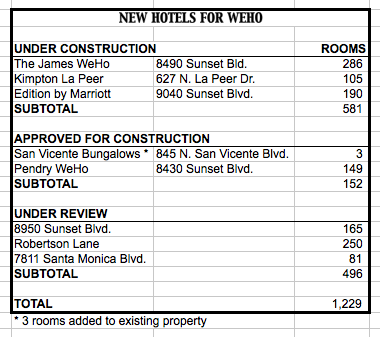 The third scenario examined by CBRE includes scenarios one and two along with proposed hotels whose plans haven't yet been approved by the city. They include 8950 Sunset, Robertson Lane and 7811 Santa Monica Blvd. (Not included in the study is the hotel proposed for 8447 Santa Monica Blvd., the site of Barney's Beanery, which only recently has surfaced.) Those additional 496 rooms would push the occupancy rate down to 68% by 2020. The study predicts that rate would only have risen to 80% by 2026.
While the study projects a steady increase in average room rates (which were $294 as of July), it predicts that if all approved and proposed projects are built, the average rate per room that actually is occupied will decline from $260 now to $243 in 2020. That is an important metric because it indicates how much revenue hotel owners actually will realize when faced with more competition.
But while the increase in hotel rooms might hurt existing hotels, the city, whose largest single source of revenue is the hotel room occupancy tax, would continue to see growth there. The city's 2016/17 fiscal year budget projects $23 million in hotel tax revenue. The CBRE study estimates that will continue to grow with the new hotels, reaching $36.8 million in the 2020/21 fiscal year.
A summary of the study by the city's Finance & Technology Services Department says that "although the additions of the three 'Under Review' hotels will induce some demand into the local market, the openings of these hotels will depress market occupancy. The 'Under Review' hotels would potentially cannibalize demand from the existing and other proposed hotels that precede them in the first few years of opening; however, given the strength of the market it is anticipated that the hotels could be absorbed within six years."
While CBRE says West Hollywood would be able to eventually absorb the 1,229 new rooms, going forward any new hotels will have to carve out a distinct niche so as not to compete so directly with existing hotels. The study notes that the proposed Robertson Lane hotel will include 10,000 square feet of meeting space, something in short supply in existing hotels, which would allow it to attract corporate groups. And 8950 Sunset's positioning as a five-star luxury hotel will make it more of a competitor with luxury hotels in adjacent Beverly Hills.
The CBRE study considered new and planned hotel development in Hollywood, Beverly Hills and downtown Los Angeles. It also looked at the increase in short-term rentals in West Hollywood through services such as Airbnb. CBRE determined that there were 271 active Airbnb units in West Hollywood last year, which are equal to 13% of the city's hotel rooms. And CBRE estimated that 183 of those Airbnb units were available for rent each night. Using data from Airbnb, the study estimated rentals of those units generated $7.6 million in revenue between October 2014 and September 2015. If the city's 12.5% transient occupancy (hotel room) tax had been levied on those Airbnb units, it would have generated $945,364 in tax revenue. The CBRE study notes that competition from Airbnb and similar services can limit the ability of existing hotels to raise rates and even force a lowering of rates.
The Financial & Technology Services Department report notes that since last year the number of active Airbnb listings has grown to more than 400 — an increase of approximately 48%. "If this increase were also applied to hypothetical City transient occupancy tax revenue from short-term rentals the new total would equal $1.4 million," it says, adding that the analysis didn't include short-term rentals through other services.