The heterosexual owner of Grindr, the gay hookup app headquartered in West Hollywood, must be wishing he had been gay and single, with a profile declaring NSA ("no strings attached").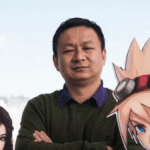 The New York Times reports that Zhou Yahui, the Chinese billionaire who bought a controlling stake in Grindr in January, is splitting with his wife in what appears to be the most expensive divorce in Chinese history.
According to The Times, a Chinese court has ordered Zhou Yahui to give his wife, Li Qiong, 300 million shares in his Beijing Kunlun World Wide Technology company, which have a value of $1.14 billion. He will retain 388 million shares.
Zhou Yahui picked up what is rumored to be an 60% stake in Grindr for only $93 million.