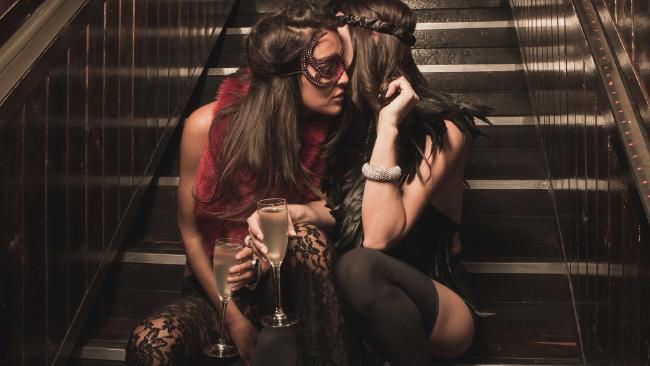 Girls just want to have fun. And if that fun is with other girls, they finally have an option in West Hollywood.
London's members-only Skirt Club is debuting in WeHo with a party at the Standard Hotel on Thursday.
The Skirt Club, which describes itself as an "underground 'play party' for bisexual and bi-curious women," was launched in London in 2014 by Geneviève LeJeune. Skirt Club since has opened locations in New York City, Sydney and Miami. New locations in Berlin and Paris are set to open this year.
"We're excited to bring Skirt Club to Los Angeles, and we hope that L.A. women enjoy the empowerment of opening up to each other in a completely unique and supportive way," said LeJeune.
"Women in general are interested in each other, particularly with the bi-curious and bisexuality trend among women that's become so prevalent in pop culture today," she said. "But sexual exploration can be difficult when you're concerned about safety and privacy… and where do you have the opportunity to meet these women?"
That explains why one of Skirt Club's rules is "no cameras."
The Skirt Club actually is a membership organization. To join it, prospective members must undergo an approval process. That starts with going online to complete a profile, which requires a full-length photo. And there's a specified age range of 21 to 49. Early applicants for Thursday's event pay $40 and existing members pay $60.
If you're vetted for the WeHo launch event, then from 7 to 11 p.m. you can enjoy cocktails and a burlesque performance by April Showers, Miss Hollywood Burlesque 2015. And according to Skirt Club, you will be greeted with a "glass of sparkling on arrival with a talk and tease." Oh, and the dress code? "Lipstick and stilettos."
Then there's the presentation from celebrity hynotherapist Grace Smith, "who will discuss the empowering freedom of owning one's sexual identity and choices."
And after 11 p.m.? That's when the "after party" begins.
"Away from the prying eyes of men, Skirt Club parties are designed to facilitate one night of consensual experimentation – no consequences, no questions."