The West Hollywood City Council has approved $4.5 million in contracts with social services organizations, including funding new ones to fill a gap left by the end of WeHo's relationship with a major homeless services provider.
That provider is People Assisting the Homeless (PATH), which has provided an outreach team for homeless people in West Hollywood and access to ten emergency shelter beds. PATH informed the city earlier this year that it wasn't interested in renewing its contract. West Hollywood has worked with PATH since 1999, when PATH took over Foundation House, a shelter operated by the West Hollywood Homeless Organization on La Brea Avenue near Santa Monica Boulevard. PATH opened a regional homeless center in Hollywood in 2001.
The city has agreed to contract with Ascencia, a Glendale-based non-profit focused on homeless, for $215,000. Ascencia will provide a team to reach out to homeless people in West Hollywood and access to shelter beds. The city also agreed to allocate $230,114 to Step Up On Second to address the needs of homeless people on the street. That will pay for services from a social worker, a nurse, a substance abuse counselor, a psychiatrist and a peer advocate. The goal is to bring ten homeless people into permanent housing each year. Step Up currently operates "Michael's Village" on North Formosa Avenue near Sunset Boulevard, which houses a couple dozen homeless mentally ill people.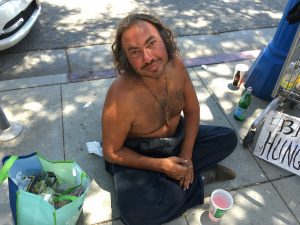 What could have been a routine decision to appropriate the social services money turned into a discussion of complaints by area residents about homeless young people seeking services from the L.A. LGBT Center. The center's Youth Center on Highland Avenue just south of Fountain provides a variety of services to homeless young people including emergency overnight beds, food, showers and addiction recovery services.
Several people who said they live near the center, which is outside West Hollywood's city limits, repeated complaints made at a recent community meeting. They claimed that young people using the Youth Center wandered into their neighborhoods, trespassing, urinating in public, stealing and having sex in public.
Two of the speakers, Ethan Higuera and Jonathan Theriault, asked the Council to put a hold on funding for the Youth Center until the center addressed those issues. That is a position that Mayor Lauren Meister had suggested at the August community meeting.
Darrel Cumming, the center's chief of staff, disputed the claim that the Youth Center's clients are the cause of neighborhood problems. Cumming noted the large number of homeless people in Los Angeles — as many as 54,000 by some counts. "We are part of the solution," he said. "There just aren't enough of us."
Cumming said the Youth Center has 25 emergency beds and offers an 18-month program in which homeless young people can live there while they transition to a more stable life.
"We have been at countless community meetings," he said. "We have a hotline for people to call us if they think there is a problem with a client of the center. Nearly all of those calls are responded to. Nearly all of those people are not clients of the center."
Councilmember John Duran suggested that a better approach would be to expand the Youth Center's funding so that it could better address the issues upsetting its neighbors. Councilmember John D'Amico also asked that the city look for additional funds to improve public safety related to homeless issues.
"I'm certainly in favor of providing beds for homeless youth," he said. "…. What I'm also in favor of is looking at our public safety dollars to see if we can supplement what we are doing."
Mayor Lauren Meister supported D'Amico's recommendation that representatives of the Youth Center attend the next Council meeting to discuss the issue and asked that representatives of Friends Community Center also attend the meeting. Neighbors on the city's Eastside also have complained about clients of Friends, which provides recovery services to LGBT people.