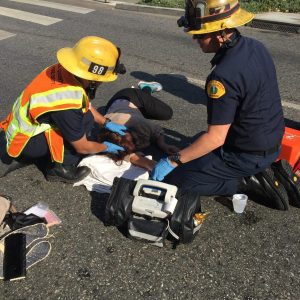 A woman was hit by a car in a pedestrian crosswalk on Santa Monica Boulevard near Palm this afternoon.
Sgt. Connie Delgado of the West Hollywood Sheriff's Station said the woman was transported to Cedars-Sinai Medical Center. She said deputies have identified the driver of the car that hit the woman but it is not yet clear whether charges have been filed.
Marta Knittel, one of the owners of the Yogurt Stop, which is located on Santa Monica Boulevard near the crosswalk, heard the crash and ran out to observe the woman lying in the street. Knittel told WEHOville that she has seen a number of near misses in that crosswalk. In an email to WeHo City Council members, she described the incident in some detail:
"Today I witnessed a woman appearing to be lifeless on the ground. A woman with both her wrists broken. A woman with blood coming out of head. A woman, when she started to 'come to', moaning and trying to get up although her body wouldn't allow her to. This was preceded by an evil sound of cars colliding. At least I thought it was. But when I ran outside, my knees buckled seeing a lifeless woman lying on the ground.
"This poor woman was hit while in the crosswalk in front of Yogurt Stop. She was hit so hard she flew over 20 feet out of the crosswalk. I hope and pray she will be okay. If she is she will have a hard and long recovery. "
On a personal note, I don't know how much more of this I can witness. I have seen it time and time again. When I first opened Yogurt Stop, I was sitting at Tango Grill and the identical accident happened where a man was hit in the crosswalk and he flew over 20 feet. "
The death in August 2014 of Clinton Bounds, who was hit by a car while crossing Santa Monica Boulevard at night near the intersection with Hancock Avenue (although not in a crosswalk), sparked an outcry among local residents for City Hall to improve crosswalk safety. The result is a program, still in progress, to install signs calling out crosswalks to motorists, install flashing lights near them and eventually to install actual stoplights that will be coordinated with those at vehicle intersections.
A recent analysis by WeHo by the Numbers showed a 38% reduction in crosswalk accidents since the city began its safety program. The biggest reduction, 76%, was at mid-block crosswalks with the new in-street signs. Those crosswalks had 13% of the collisions before the signs were installed and only 5% afterward.