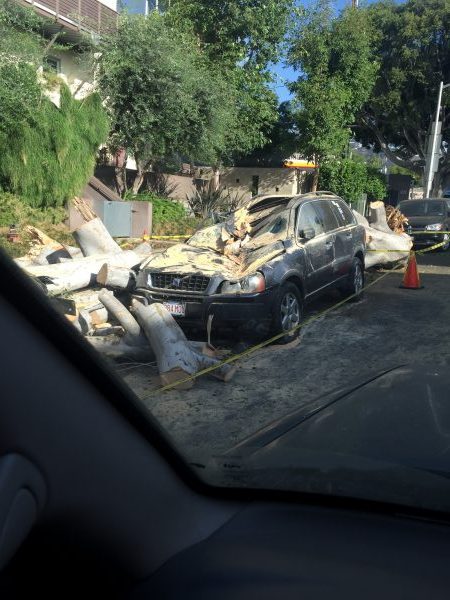 Heavy winds sent tree limbs flying and  trees falling in West Hollywood last night, with one seriously damaging two cars on Laurel Avenue south of Santa Monica Boulevard.
The winds are a preview to what the National Weather Services is predicting for this weekend in what it calls "the first significant Santa Ana offshore wind event … with locally gusty offshore winds and hot/dry conditions."
"The Red flag warning for the Los Angeles and Ventura County Mountains continues through Sunday with northeast wind gusts 35 to 45 mph and minimum relative humidity in the single digits to teens Friday through at Sunday," the NWS reports. "Another Red Flag warning is in effect Friday night through Sunday for potentially critical fire weather conditions across the Los Angeles and Ventura County Valleys and Coastal Mountains due to the possible combination of northeast winds gusting to 30 to 40 mph and minimum relative humidities in the single digits to teens. In addition to the hot and dry conditions, a strong ridge of high pressure is expected to build into the area this weekend bring widespread 90s to low 100s by Sunday, possibly continuing into early next week."
In response to the predicted high temperatures, the City of West Hollywood will provide a cooling center at Plummer Park's Community Center Senior Lounge, 7377 Santa Monica Blvd. near North Fuller. The cooling center will open Saturday and remain in operation through Wednesday. Hours are 9 a.m. to 7 p.m. weekdays and Saturday and 9 a.m. to 6 p.m. on Sunday. The hours will be extended for additional days if high temperatures persist.
The cooling center is available for quiet activities. People using it are encouraged to bring books or board games. Staff members at Plummer Park are available to direct people to the Senior Lounge.
The City of West Hollywood provides free transportation to Plummer Park through its CityLine service. CityLine is an accessible alternative to the larger bus system and all shuttles are ADA-accessible. CityLine operates Monday through Saturday from 9 a.m. to 6 p.m. and shuttles arrive approximately every 30 minutes. More information and a detailed route map can be found online and route maps also are available on CityLine shuttles and at West Hollywood City Hall, 8300 Santa Monica Blvd. at Sweetzer.
The city reminds residents and community members to take precautions to keep as cool as possible during hot days. If possible, stay out of the sun; avoid strenuous activity; drink plenty of water; and wear lightweight clothing. Also, note that pets and children are particularly vulnerable to high-heat conditions. On a 78-degree day, the temperature inside a parked vehicle can soar to 120 degrees in just minutes, and on a 90-degree day, the interior temperature can reach as high as 160 degrees in less than 10 minutes — even with windows cracked open.
.