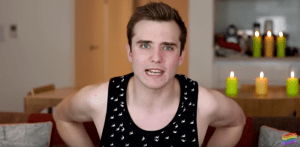 Calum McSwiggan, the gay British YouTube sensation, has pleaded not guilty to charges of vandalism and that he filed a false police report alleging he was attacked after leaving The Abbey in West Hollywood.
McSwiggan made the plea yesterday at L.A. County Superior Court at LAX. He was ordered to return for a pre-trial hearing on Nov. 7. He remains free on $20,000 bail.
McSwiggan, who has more than 64,000 followers on YouTube, gained attention after making the assault claim in a post on Facebook. He was in California to attend the annual VidCon vidcon.com/ video convention in Anaheim.
He said he had been assaulted by three men after leaving The Abbey in the early morning hours of June 27 last year.
"After one of the most wonderful weekends at VidCon we went out to a gay club to celebrate, and towards the end of the evening I was separated from my friends and beaten up by three guys," McSwiggan said in his Facebook post.
"The authorities should have been there to help and protect me but instead they treated me like a second class citizen," McSwiggan said on Facebook. "With three broken teeth and six stitches in my forehead, I've never felt so terrified to be a gay man in the public eye."
Sheriff's deputies who arrived to investigate McSwiggan's assault found no evidence of assault but did find McSwiggan allegedly vandalizing a car in the Pavilion's grocery store parking lot. He was arrested for the vandalism as well as filing a false police report.
McSwiggan was jailed after his arrest and while in a holding cell was discovered beating himself with a telephone receiver. He was then taken to the hospital.
McSwiggan's allegation that he was beaten was been reported on gay sites such as Towleroad, the UK's PinkNews and LGBTQ Nation. Posts on Twitter and Facebook by people who say they are friends of McSwiggan alleged the attack was premeditated and carried out by people who followed McSwiggan on social media, with many claiming that the alleged attack was a gay hate crime.
However his arrest prompted wider media coverage, with stories in publications as diverse as People magazine and The New York Times. McSwiggan was criticized in a number of LGBT stories for falsely claiming that he was the victim of a hate crime.
"Being accused of being a liar and being called a disgrace to the LGBT+ community, a community I've dedicated my life to, is more painful than any hate crime could ever be," he said in another Facebook post.