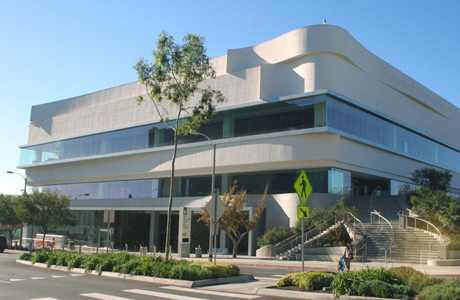 The West Hollywood Library's 5th anniversary will be celebrated for two days, beginning on Friday with a panel discussion, "Do Libraries Have a Future?", presented in conjunction with Zócalo Public Square and WeHo Reads. Then on Saturday there will be a birthday party that includes face painting, caricatures, a fortune teller, balloon twister and  cakes.
The panel discussion will be moderated by Gregory Rodriguez, publisher, Zócalo Public Square. Panelists will include Miguel Figueroa, director, Center for the Future of Libraries at the American Library Association; Susan Parker, UCLA deputy librarian, and Susan Hildreth, former director of the Institute of Museum and Library Services and Professor of Practice at the University of Washington Information School. The group will explore how libraries fit into a hyper-connected, digital world. This event is free, but reservations are requested and can be made online.
The party is being thrown by the Friends of the West Hollywood Library from 1:30 p.m. to 3:30 p.m. in the library's community room and adjacent park at 625 N. San Vicente Blvd. The event is a collaboration of Friends, WeHo Arts and the library.
"In addition to celebrating the library's birthday, a fun party provides an opportunity to bring folks to the library who may not have been here before," says Friends President Linda Demmers. "It has become the 'heartbeat' of our city and we are eager to share it with others."
Other highlights for partygoers include a crafts table for creating birthday cards for the library, a picture frame project for teens, a henna tattoo artist, refreshments and giveaways.
Opened on October 1, 2011, the West Hollywood Library houses over 150,000 items. It includes 160 reader seats and 69 public use computers. The 32,000 square-foot library quickly became the city's cultural, literary and artistic center and is the location for important art exhibits. It is in the top 10% of L.A. County libraries for number of visitors annually and celebrated its one-millionth visitor last year. The library serves more requests for holds and reserves than 95% of the other L.A. County branches.
More information about the anniversary celebration is available online here and here.