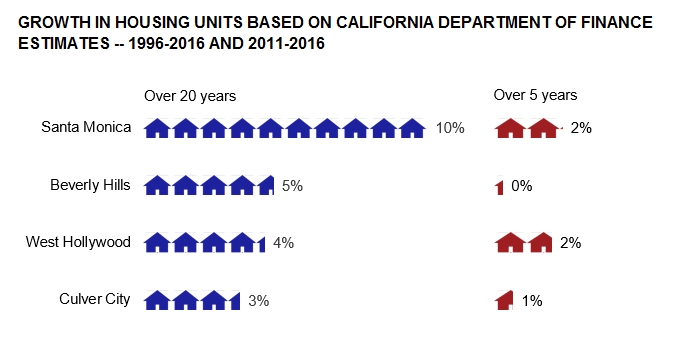 Santa Monica's housing supply has grown faster than West Hollywood's, though West Hollywood may have more units in the short-term pipeline. That is according to a follow-up analysis by WeHo by the Numbers. The analysis looked only at the number of housing units and did not consider affordability.
The California Department of Finance estimates the number of housing units in each city. The chart above shows the percentage growth in their estimates over a 20-year period (1996-2016) and a more recent 5-year period (2011-2016). The growth represents new units built minus any demolished or otherwise removed from the housing supply.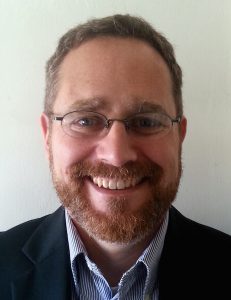 Santa Monica led the way with 10% growth in the number of housing units over the last 20 years. Housing in Beverly Hills (5%), West Hollywood (4%) and Culver City (3%) grew at less than half that rate.
More recently, West Hollywood's five-year housing growth rate (2%) was about the same as Santa Monica's. Housing in Culver City and Beverly Hills grew less than 1%.
How are the housing stock and growth split among the four cities? West Hollywood had 25,127 housing units as of January, 2016. That was almost a quarter of the total for the four cities. Santa Monica had 52,082, which was close to half. Culver City had 17,587 and Beverly Hills had 16,444.
The 20 years of housing growth was split up differently. Santa Monica had less than half of the housing stock but two-thirds of the growth. West Hollywood had almost a quarter of the housing stock but only 15% of the growth.
The state's estimates don't include housing completed this year or still in the pipeline. West Hollywood probably has a much bigger share of those new units, based on building permits issued since 2014. To find out how big a share, please see the WeHo by the Numbers analysis, How much has housing in West Hollywood grown compared to nearby cities?