The cultural landmarks of many cities are school, libraries, theatres and, of course, architecturally or historically significant houses.
West Hollywood has plenty of the latter. But what it really stands out for is its restaurants. Decades before West Hollywood was incorporated as a city in 1984, it was known for its restaurants.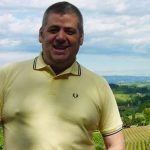 George Geary chronicles the most famous of along with dozens more in greater Los Angeles, in his book "L.A.'s Legendary Restaurants, Celebrating the Famous Places Where Hollywood Ate, Drank and Played." Musso & Franks, Ciros, the Brown Derby, Romanoffs, they are all there.
Geary, a former pastry chef for the Walt Disney Company, is the author of nine cookbooks. He was recently named Culinary Educator of the Year by the International Association of Culinary Professionals. He is perhaps best known for creating all the cheesecakes used on "The Golden Girls" television series and has worked as a casting judge and critic for ABC's "The Taste with Anthony Bourdain," "The American Baking Competition" with Jeff Foxworthy and "Hell's Kitchen."
Below are chapters from Geary's book that focus on three restaurants, two still in operation and one alive only in the memories of those who ate there before it closed in 1995. Geary's book is available on Amazon and BarnesandNoble.com.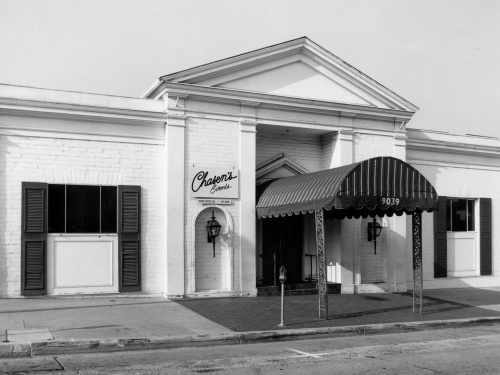 Chasen's
Open: 1936-1995
Location: 9039 Beverly Blvd., Los Angeles, Calif. 90048
Original Phone: CR 1-2168
Cuisine: American
Design: Paul Revere Williams
Building Style: Vogue Regency
Currently: Bristol Farms Grocery Store
Originally named Chasen's Southern Barbecue Pit, Chasen's was destined to become Hollywood's most famous eatery. After receiving a $3,500 advance from New Yorker magazine founder and editor Harold Ross to help fund the restaurant, Dave Chasen and his partner, Joe Cook, opened Chasen's on Beverly Boulevard in 1936, a few weeks before Christmas.
Chasen's was small, with only six tables, a six-stool bar, and an eight-stool counter. The menu was limited and offered Southern fare like chili and ribs. The price of spareribs was thirty-five cents, a bowl of chili was twenty-five cents, and a call drink (a tipple containing the customer's choice of liquor) was thirty-five cents. In the entire history of Chasen's, the restaurant never accepted checks or credit cards—only cash.
With Ross's help, news of the restaurant spread and celebrities started coming to the barbecue pit. Ross talked Dave Chasen into giving Dorothy Parker one free drink a night, because her presence at the restaurant drew publicity. The restaurant's list of famous regulars grew, including Frank Sinatra, Buddy Ebsen, Groucho Marx, W. C. Fields, Jimmy Cagney, Charlie Chaplin, Ray Bolger, Joan Bennett, Joe DiMaggio, William Powell, Joan Blondell, Nunnally Johnson, James Thurber, Robert Benchley, and Alexander Woollcott.
Within a year, the place expanded from a small rib parlor to a restaurant, with more than thirty-five items on the menu served by full-service, uniformed waiters. As the space, clientele, and menu expanded, the name was shortened to "Chasen's." Every night, when the venue opened for dinner, Dave Chasen, who was always impeccably dressed, welcomed guests at the door wearing a suit lined in red silk and a bowtie.
Bill Grady, Hollywood's number-one casting director in the 1930s, loved the restaurant's steak and garlic bread and had his own table at the venue. Grady thought of his table as his own private office. "I did more business there, and I signed more actors there, than anywhere else," he recalled. Grady ate at the restaurant with his favorite client, Jimmy Stewart, about four times a week, as well as other clients such as Mickey Rooney and Clark Gable. Jimmy Stewart even wined and dined his future wife, Gloria McLean, at Chasen's. In 1949, Grady rented out the entire restaurant for Stewart's bachelor party, attended by Spencer Tracy, Gary Cooper, Frank Morgan, George Murphy, Jack Benny, Lew Wasserman, and David Niven. Stewart's booth from Chasen's is now on display at the Jimmy Stewart Museum in his hometown of Indiana, Pennsylvania.
Other celebrities had their "special" tables at the restaurant as well, including Cary Grant, Ronald Colman, and Leslie Howard. Humphrey Bogart, Alfred Hitchcock, Frank Sinatra, and Ronald Reagan had their own permanent booths. Reagan proposed to actress Nancy Davis at Chasen's in 1952; his booth from the restaurant is on permanent display at the Ronald Reagan Presidential Library in Simi Valley, California.
Of all the restaurant's star patrons, Orson Welles reportedly had the biggest appetite; according to Hollywood lore, he ordered two of everything. Frank Sinatra was the smallest eater, reportedly only consuming half of what was served or ordering half portions, if it was allowed. And it's said that Howard Hughes had the simplest palate, ordering tomato juice, butterflied steak, and salad.
Chasen's became famous for its delicious cheese toast appetizer, colossal seafood platter, Caesar salad prepared tableside, and buffet that offered Beluga caviar. Regulars requested off-the-menu items like the renowned Hobo Steak, a thick New York cut that was roasted very rare in a crust of salt before being sliced and finished in butter in a copper sauté pan at the table. The chili at Chasen's was its biggest culinary draw; customers ordered it even after it was taken off the menu. Dave Chasen reportedly kept the recipe a secret, and came in every Sunday to make up a batch for the week. Today, the Bristol Farms grocery store, built on the site of the former restaurant, takes special orders for Chasen's chili in its catering department.
In 1939, newlyweds Clark Gable and Carole Lombard took Alfred Hitchcock to Chasen's soon after he arrived in Hollywood to direct Rebecca. From then on, Hitch had a standing dinner reservation in booth number 2 on Thursday nights for more than forty years. Hitchcock routinely fell asleep at the table. A picture of Hitch's daughter, Patricia, hung on the wall behind the booth.
When Howard Hughes bought Transcontinental and Western Air in 1939, he asked Dave Chasen to help him become the first airline to serve passengers hot food on good china and linens instead of the usual boxed sandwiches that Bill Marriott and his "Hot Shoppes" were serving on the East Coast. Hughes selected Chasen's to cater the party for the launch of the Spruce Goose for its one and only flight on November 2, 1947.
During the war years, it was difficult to get a seat at Chasen's. The Hollywood hot spot had strict rules that forbade autograph hounds and photographers from disturbing its celebrity diners. Because of this, stars felt that they could let their hair down at the restaurant. At one time, the building even included a barbershop, steam room, and shower area so stars traveling from the East Coast could go straight to the restaurant and freshen up before their meal.
Tommy Gallagher, one of the captains of the restaurant's prestigious "Station 8" front room, worked at Chasen's for over forty-six years. Gallagher often greeted the famous at the front door by their first name, and occasionally with a cunning remark. One time, he said to then-Vice President George Bush, "George, you know what your main problem is? You need a new tailor." Only Gallagher could get away with making a comment like that.
Despite his lighthearted demeanor, Gallagher took his job seriously. When Nancy Reagan was in the hospital giving birth, he showed up with bags of Chasen's food for her. Such behavior was not considered outrageous; taking care of the Chasen's regulars was a staple of the house. When Lana Turner was expecting, Dave Chasen sawed off part of a table at the restaurant to ac-accommodate her. He even shipped Chasen's special chili to Elizabeth Taylor when she was in Europe filming Cleopatra in the early 1960s. It came to be known as the most expensive chili on earth.
Chasen's was also the birthplace of a hit song. During a Grammy Awards celebration at the restaurant, singer Donna Summer went into the ladies room and noticed that the bathroom attendant had fallen asleep while watching a small portable television between visitors. This inspired Summer to write the song "She Works Hard for the Money."
After Dave Chasen's death in 1973, his wife and business partner, Maude, controlled the restaurant's operations for twenty-two years. By 1995, she was ready to retire. When Chasen's closed in April of that year, it had become a virtual time capsule of Old Hollywood, and many veteran stars turned out to bid it a fond fare- well. An auction event was held in one of the restaurant's banquet rooms to sell off nearly sixty years' worth of memorabilia. On the auction list were sketches by Toulouse-Lautrec, drawings by humorist James Thurber, a picture of ballerinas signed "Degas" (no one was sure whether it was genuine), and a sketch by W. C. Fields of himself and John Barrymore. An enormous pressure cooker, four pianos, and 396 margarita glasses were also auctioned off.
In 1996, Chasen's reopened briefly for a very private catered event. Hollywood luminaries joined some of politics' biggest names to celebrate the eighty-fifth birthday of President Ronald Reagan. The president did not attend his own event, but dined quietly at his home in Bel-Air; former First Lady Nancy Reagan preferred that her husband avoid large gatherings after he was stricken with Alzheimer's disease.
Chasen's will be in my mind forever. In 1982, while working at a bakery called the Cake Walk, I delivered special chocolate cakes for a private party at Chasen's. The code on the order form read "RR." I can imagine who the cakes were for. When I entered the back door with the cakes in tow, Maude Chasen herself was there to greet me. That was my last view of Chasen's.
Formosa Cafe
Open: 1925-present
Location: 7156 Santa Monica Blvd., West Hollywood, CA 90046
Original Phone: HO 2-9992
Current Phone: (323) 850-9050
Cuisine: California and Chinese
Building Style: Train Car
In 1919, Mary Pickford and Douglas Fairbanks bought a studio on eighteen acres of land in the Los Angeles suburbs from silent filmmaker Jesse Durham Hampton.
Pickford-Fairbanks Studios, as they called it, was located at 7200 Santa Monica Boulevard. Later, the studio evolved into the United Artists Studio, and then Warner Hollywood Studios. Today, it's known simply as The Lot.
Across the street from this studio, a tiny eatery called the Red Post Café sat for a number of years, serving breakfast and lunch in its cramped space. In 1925, New York prizefighter Jimmy Bernstein bought the little restaurant and named it the Formosa Café. In order to add more space and serve more people, Bernstein affixed a red train car to one side of the building.
Because of its proximity to the studio, the Formosa has seen its share of movie and television stars. Up until recently, its walls were lined with over a thousand 8 x 10 glossies of every star known to man, from the iconic (John Wayne) to the more recently iconic (Johnny Depp). The café's two slogans were also posted on an inside wall: "Meet Me at the Formosa" and "Where the Stars Dine." The Formosa itself has appeared in many films, including L.A. Confidential, Swingers, and The Majestic.
In 1945, Bernstein brought on Hong Kong-born chef Lem Quon as his partner. It was a perfect business relationship, with Quon running the kitchen and Bernstein at the front of the restaurant, greeting customers and running the staff. The partnership lasted thirty-one years.
Over the years, the Formosa has changed its menu from bistro-style meals, to Asian cuisine, to California-style fare. If your grandparents had dined at the Formosa in their day, they would have eaten steaks and slow-cooked, braised meats; your parents, on the other hand, would have seen the introduction of Asian cuisine at the café, such as noodle bowls and raw fish dishes. Today, fresh farm-to-table ingredients are used in the Formosa's kitchen.
The Formosa has seen its fair share of controversy. On October 23, 1944, with the war still going strong, the café was closed down for the night when sisters Francis and Betty Malson were arrested for selling "set-ups" after hours. On April 4, 1950, about an hour prior to opening, a "baby-faced" gunman (as Bernstein described him) came in through the café's back door and demanded about $1,500 in cash and checks (the equivalent of about $14,000 today). For years, Los Angeles gangster Johnny Stompanato and his lover, actress Lana Turner, frequented the Formosa for their "back room" meetings with Johnny's boss, mobster Mickey Cohen. In 1952, Cohen's arrest for tax evasion put an end to those meetings.
When Bernstein died in 1976, Quon became the sole owner of the café. In the last years of Quon's life, he arrived at the café every morning at around 5 a.m. to have coffee and breakfast, and worked until 9 p.m., managing the kitchen and staff from his favorite corner booth (which also happened to have been Ava Gardner's favorite). In December of 1993, Quon passed away from chronic heart failure. Today, the café is run by Quon's grandson, Vince Jung.
The Formosa has fought two major threats in its near-century of existence. In 1991, the Friends of the Formosa preservation group was formed to fight Warner Bros., which owned the property the café sat on at the time and wanted to turn it into a parking lot. Actors and other frequenters of the café got involved, and the Formosa was saved; the parking lot was constructed a few blocks down from the eatery instead. In 2001, another fight to save the Formosa ensued when the West Hollywood Gateway Center—a two-story shopping center that would take up a full city block—was proposed. Although the Formosa was left alone, it was suddenly in the middle of West Hollywood's largest shopping complex.
Lacking customers, the Formosa paired up with the Red Medicine Restaurant team in early 2014 to revamp its menu, calling it "Red Med at the Formosa." Although the café's new offerings were well received, the partnership lasted only three months. The Formosa then brought in sixth-place Top Chef winner Brian Huskey, who added eclectic dishes to the menu like Korean brisket with Asian slaw and fried chicken sliders with sweet potato and sambal aioli. They also put On the Rocks winner Joseph Brooke behind the bar, where he whipped up tasty, Asian-themed concoctions like the Canton Iced Tea (which contained jasmine and black teas mixed with vodka, lemon, mint, and soda). This team lasted a few years.
In July 2015, the inside of the Formosa went through a complete transformation. All of the 8 x 10 glossies were taken down, the red interior was painted a battleship gray, and a rooftop garden bar was added. The menu changed drastically, featuring new items like microbrew beers and toasted cheese sandwiches. The shell of the red train car is all that remains of the original Formosa design.
Many think of the Formosa as just a dive bar, while others appreciate its historical value. Lem Quon felt that the Formosa's success was due to the fact that everyone who came into the restaurant was treated like a star. "I never looked down on people," he told the Los Angeles Times. "Here at the Formosa, we always make small people feel like big stars. We are all the same."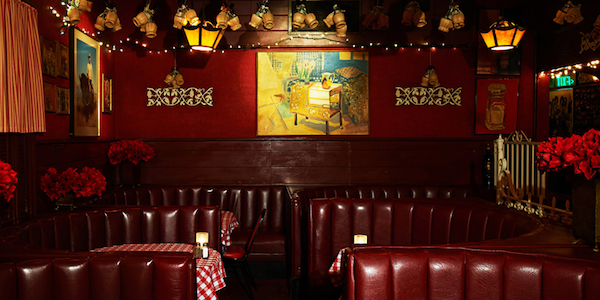 Dan Tana's
Open: 1964-present
Location: 9071 Santa Monica Blvd., West Hollywood, CA 90069
Original Phone: CR 5-9444
Current Phone: (310) 275-9444
Cuisine: Italian
Building Style: Clubhouse
In 1964, Serbian expat and former professional football player Dan Tana (born Dobrivoje Tanasijevic) opened the restaurant Dan Tana's on Santa Monica Boulevard, following in the footsteps of his restaurateur father. At the time, that unincorporated area of L.A.—now known as West Hollywood— didn't have much to offer.
Tana got his start in the restaurant industry while playing on a California league football team. Since he was not legal, the team arranged for his papers and a job as a packer at the StarKist Tuna factory in San Pedro. After that, Tana worked as a dishwasher at Miceli's, and then as the maître d' at La Scala. He was working in the Professional Soccer League offices in Los Angeles when he noticed a hamburger restaurant called Domenico's going out of business down the street. In 1964, Tana bought the place and hired Chef Michele Diguglio to run the kitchen.
Dan Tana's has remained virtually unchanged since its opening day. The rounded neon sign outside has been there since the restaurant was Domenico's. The walls are still painted a deep red, with matching red leather banquettes and tables covered by red-and-white-checkered tablecloths. Clusters of Chianti bottles hang from the ceiling. Known for its delicious Italian food and steaks, the restaurant offers classic pasta dishes such as fettuccini, lasagna, and eggplant parmesan.
Dan Tana's draws a broad range of celebrities. Both Paris Hilton and her mom, Kathy, have celebrated birthdays at the eatery. Johnny Carson said it was his favorite restaurant in Los Angeles. George Clooney's 2006 Oscar party was held there. It was the first restaurant Cameron Diaz ate at when she arrived in Tinsel Town, and she still eats there often with her agent and manager. Drew Barrymore visited many times when she was a toddler, and today she still comes in. In 2011, Ryan Phillippe told L.A. Magazine that he and his friends had eaten at either Dan Tana's or Craig's every Thursday for four years straight.
Because of its close proximity to the Troubadour, Dan Tana's has also hosted some of the greatest musicians of our time, such as the Byrds, the Mamas and the Papas, Frank Zappa, Elton John, Bette Midler, and the Eagles, who wrote their 1975 hit song "Lyin' Eyes" at the restaurant.
In 2008, restaurateur Sonja Perencevic bought Dan Tana's. Even under the new ownership, Dan Tana's has maintained the same look, and the menu has retained many of its original items.