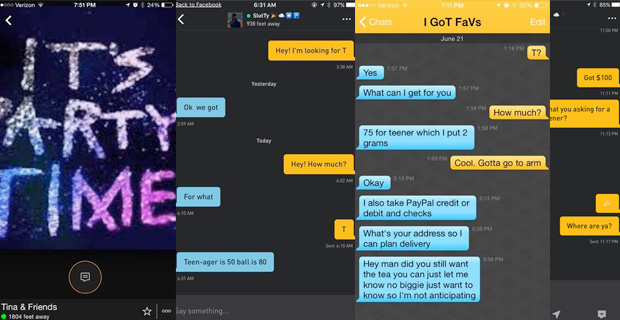 Members of West Hollywood's Public Safety Commission last night pushed for action on the sale and use of methamphetamine in the city.
"I think it's really important that you hear from us that this issue has really out of control," said Estevan Montemayor, chair of the commission, in a conversation with Capt. Holly Perez, who heads the West Hollywood Sheriff's Station. "As young gay man in this city, I've lived here for five years now, and every year I feel like it gets worse… It's terrible to see acquaintances, friends, people I know of, harmed by this terrible drug."
Commissioner Ben Coleman and Montemayor put the meth drug issue on the agenda after WEHOville published a story calling out Grindr, producer of the eponymous mobile phone app for gay men, for providing a platform for meth sales. Competing hookup apps take steps to block symbols and words that indicate someone is trying to sell a drug.
Montemayor praised Mayor Lauren Meister for pledging to set up a meeting with Joel Simkhai, the founder and CEO of Grindr, which is headquartered on the 14th floor of the Red Building at the Pacific Design Center. Meister told WEHOville that she hopes she and City Manager Paul Arevalo can meet with Simkhai next week. Councilmembers John D'Amico and John Duran, friends of Simkhai, have said they will discuss the issue with him.
Montemayor, who said his brother had been addicted to meth, said it also is important for West Hollywood to communicate with the gay community, which makes up 40% of the city's population and a substantial percentage of its visitors, about the issue.
"I don't think we want to start to sex patrol people on Grindr," Montemayor said, alluding to concerns of some about law enforcement reading the personal messages between app users. "I think that would be quite dangerous. However I think we want to make it clear that the city wants to take care of our own, whether they live here or not. And that folks who are susceptible to this kind of danger are taken care of."
Coleman said he wants to make sure that law enforcement uses social media tools such as Grindr to identify and arrest drug dealers. He also stressed that the focus should be on sellers of the dangerous drug and not its users.
Coleman said that in a conversation several years ago with narcotics detectives with the Sheriff's Department he was surprised that they had never heard of Grindr, which is believed to be the post popular mobile app used by gay men for finding sexual and romantic partners. Grindr claims more than four million users in 193 countries.
Capt. Perez said she is working with the Sheriff's Department's narcotics squad on the issue and that the department's traditional approach to making drug sales arrests makes it difficult to arrest dealers on mobile phone apps.
"You can't really do a buy/bust," she said, "because you have to be willing to buy right now. Our detectives don't work that way. They have to set it up, get the money, get the approval to make the buy and make the bust. The way these apps work you contact the person at two or three in the morning and they want to make the sale right now."
Perez said they are exploring more creative ways to address the meth sale issue. She said arrests for possession of meth more than doubled in the first six months of this year, going from 46 arrests in January to June 2015 to 105 from January to June 2016. Arrests of drug sellers went from five in the first six months of last year to nine in the same period this year.
Perez said drug possession arrests typically occur when a deputy pulls over someone for a traffic violation or investigates someone for erratic behavior. On occasion, she said, that person will reveal who sold them the drugs, and deputies will pursue that person.
"This is really important because it does reflect on West Hollywood," said Commissioner Tory Berger, who noted that police in New York City arrested a meth dealer they discovered on Grindr. Berger also noted the recent arrest of the owner of Backpage.com, a classified advertising website that has become controversial for allowing posts advertising sex with underage boys and girls. Berger asked if someone could be arrested for facilitating the sale of illegal drugs online.