The City of West Hollywood and its Disabilities Advisory Board are hosting two events to recognize Disabilities Awareness Month, which occurs each October.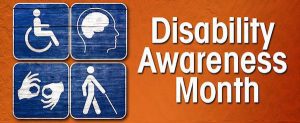 Tomorrow from 9 a.m. to noon the city will host a health and wellness event at the West Hollywood Community Center at Plummer Park, 7377 Santa Monica Blvd. The event will provide free blood glucose screening, flu and pneumococcal vaccinations, and HIV/STD testing. General healthcare and Covered California information will be available as well. The event is co-sponsored by the City of West Hollywood, Cedars-Sinai Medical Center, AIDS Project Los Angeles and AIDS Healthcare Foundation.
On Oct. 26 at 6 p.m. the city will host its 18th annual Disability Service Awards at the West Hollywood City Council Chambers, 625 N. San Vicente Blvd. south of Santa Monica Boulevard. A reception will take place prior to the meeting, beginning at 5 p.m. The Disability Service Awards event recognizes individuals, businesses, and nonprofit organizations for work with people living with disabilities including accessibility issues, attention to Americans with Disabilities Act (ADA) requirements, or advocacy.
This year's Disability Service Award recipients are:
• Cathy Blaivas and Stephanie Harker – Individual Award;
• Team One USA – Business Award;
• KCBS Channel 2 – Media Award, and
• ACEing Autism – Nonprofit Award.
In addition to the awards presentation, there will be a special performance by the Braille Institute's Johnny Mercer Children's Choir. Validated parking will be available to guests in the West Hollywood Park five-story public parking structure. Admission is free and open to the public.
The Disability Service Awards is sponsored by the City of West Hollywood, through its Disabilities Advisory Board.