UPDATE:  The winning bidder, identity undisclosed, paid $22,000 for the "Naked Trump."
If you're afraid that Donald Trump will disappear after his likely loss of the Nov. 8 (or is that Nov. 28?) Presidential election, here's an option: Attend the event tomorrow at Julien's Auctions at which a puffy statue of the Republican Party candidate will be up for auction.
The statue, titled "Naked Trump," is part of the "Emperor Has No Balls" collection. It will be one of a number of pieces at the street art and contemporary art auction, which will take place from 2 to 6 p.m. and from 7 to 8 p.m. tomorrow at 741 North La Cienega Blvd. at Sherwood.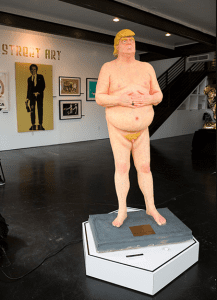 Julien's Auctions estimates the Trump statue will sell from $10,000 to $20,000. It was created by the anonymous art collective Indecline and earlier appeared on the 4600 block of Hollywood Boulevard. In an interview with DNAInfo.com, an artist identified only as Monroe said he had been asked to create five such statues. Monroe was an early Trump supporter who changed his mind after the candidate made statements about a handicapped journalist that Monroe found offensive. The video above shows one of the "Emperor Has No Balls" statues being created (sans testicles).
A portion of the proceeds from the sale will benefit the National Immigration Forum, one of the leading immigrant advocacy organizations in the country, with a mission to advocate for the value of immigrants and immigration to the nation. (Not, in case you wondered, to build a wall in Mexico).
The statue, which shows the controversial GOP candidate with his (short) fingers laced together, is one of a series that has caused a commotion nationwide when appearing unannounced in public spaces in New York, San Francisco, Seattle, Cleveland and Los Angeles. This "Naked Trump" was rescued by La Luz de Jesus Gallery director Matt Kennedy, and is one of the only remaining examples not confiscated or destroyed. The explicit statue quickly became a symbol of political protest art and garnered international coverage when the gallery refused to hide or censor the statue, choosing instead to display it prominently and in public view.
To further emphasize the political theme of the auction, Julien's Auctions also will be offering Knowledge Bennett's "Hillary Clinton Cojones" (estimate: $10,000 to $15,000) featuring an image of a "ball grabbing" tux-wearing Clinton, and Shepard Fairey's "Hope," (estimate: $3,000 to $5,000) with the iconic image of Obama that led his 2008 campaign.
This auction includes other works by street and contemporary artists including Banksy, Keith Haring, Jean Michel Basquiat and Andy Warhol.