The 32nd annual AIDS Walk Los Angeles will be held today in its new downtown location, with an estimated 20,000 people walking 10 kilometers to raise funds for APLA Health.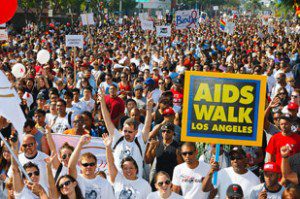 The walk will begin at 10 a.m. in Grand Park. The opening ceremony will begin at 9:15 a.m. and include speeches by Los Angeles Mayor Eric Garcetti and Los Angeles County Board of Supervisors Chair Hilda Solis about the AIDS and HIV crisis in Los Angeles County and a musical performance by the Grammy- winning singer-songwriter Estelle.
"NCIS" co-star Pauley Perrette, "The Price is Right" host Drew Carey and "The Real O'Neals" cast members Bebe Wood and Mary Hollis Inboden are also scheduled to attend the opening ceremony.
The walk was moved from West Hollywood because of Grand Park's "versatility, size, and easy accessibility by public transit," said Craig Miller, the event's founder and senior organizer.
The new location "will better position the event for communities that have often felt disenfranchised, underserved and on the periphery," said Craig Thompson, chief executive officer of APLA and APLA Health & Wellness.
The course will take walkers through Little Tokyo, the Jewelry District, Fashion District and Pershing Square, passing the Japanese American National Museum, the Walt Disney Concert Hall, Dorothy Chandler Pavilion and The Broad museum.
Post-Walk festivities will begin at noon on Grand Park's Performance Lawn and Splash Fountain area, and will include the Downtown Divas of Drag show featuring Delta Work, LaGanja Estranja, Latrice Royale, Cynthia Lee Fontaine and Morgan McMichaels from the Logo competition series "RuPaul's Drag Race." There will also be music, dancing and food trucks.
The proceeds from the walk benefit APLA Health, which provides food, housing support, benefits counseling and more for people living with and affected by AIDS and the human immunodeficiency virus which causes AIDS, and primary medical, dental, and mental health care and HIV prevention services focused on the lesbian, gay, bisexual and transgender community and other underserved communities.
AIDS Walk Los Angeles was the world's first fundraising walk to benefit organizations dealing with AIDS. The inaugural walk in 1985 began at Paramount Pictures, then moved to West Hollywood because of security concerns following the Sept. 11, 2001, terrorist attacks.
Since its inception, the walk has raised in excess of $82 million, including more than $2.4 million last year, according to Ben Fordham, the walk's director of communications.