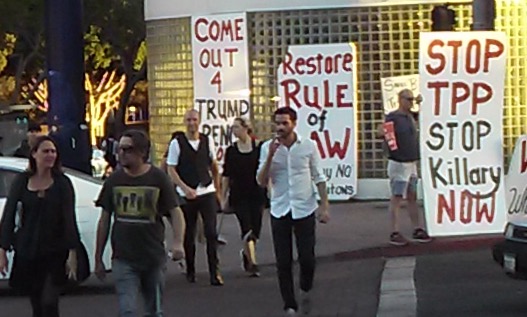 Donald Trump may have been banned from West Hollywood, but his supporters clearly aren't.
The latest of several Trump rallies occurred on Friday on the southeast corner of Santa Monica Boulevard at San Vicente, the site of a past gathering of Trump supporters.
It wasn't heavily promoted. In fact, WEHOville learned of it this morning from Breitbart News, http://www.breitbart.com/california/2016/10/23/trump-supporter-compares-donald-to-king-cyrus-says-hillary-clinton-is-jezebel/ the L.A.-based conservative news site whose chairman Stephen Bannon was named CEO of Trump's presidential campaign in August.
Of the women at the rally interviewed by Breitbart, one said she didn't like Trump's controversial comments about women but would vote for him anyway. Another woman decried Hillary Clinton's support for abortion rights. A third, Christina Ramos, put a Biblical twist on the election. Trump, she told Breitbart, is King Cyrus. Hillary Clinton she characterized as Jezebel, with her husband Bill like King Ahab, who married Jezebel. "She was in cahoots with Babel," Ramos told Breitbart. "She worshipped false gods too."