Looking for a little horror this Halloween?
The Boulet Brothers will offer it up with "Dragula: Search for the World's First Drag Supermonster" on the Hey Qween YouTube network. An announcement of the Oct. 31 launch says the competition-based reality show "offers alternative, horror, punk and misfit themed drag queens competing in mind blowing, shocking and dangerous challenges over a series of six episodes to slay the competition, snatch the crown of Dragula or die trying."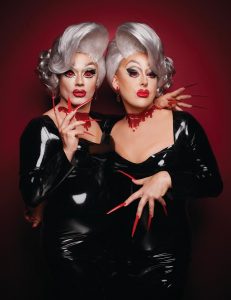 The show is created and hosted by the Boulet Brothers, the drag duo famous for creating developing alternative queer nightlife and events. They are perhaps best known for their shows at Precinct, downtown L.A.'s popular gay nightclub. HeyQween is hosted by comedian Jonny McGovern and bills itself as "the gayest show on the internet."
The show is produced by Ash & Bone Cinema and will be airing online on Halloween night. New episodes will come out every two weeks on Monday mornings following the Halloween launch and culminating in a finale where the winner of the series will win the crown.
The Boulet Brothers describe the series as "a mix between 'Fear Factor,' 'Jackass' and 'Rupaul's Drag Race'." The video below gives a look at some of the monsters, er, "contestants."