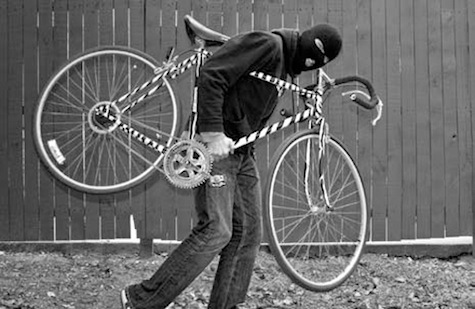 Sometimes I wonder if there is not an entity somewhere pulling strings and pushing levers so that we humans can raise our eyebrows at what we may call coincidence or even serendipity. Try this one on for size.
First note -Once a week I check the Aspen Times website, keeping an eye on events in that little town where we own a small condo. The second item I came upon read: "Cops: Arrest may solve rash of high end of Aspen bike thefts ." The man arrested was tied to thefts of bikes, which he then advertised for sale on eBay. That would be good news for many of the locals who now use their bikes more than their cars.
Second note – Earlier in the day I had been going through a box of VCR tapes and testing to see if they were still playable. The last one I looked at was "The Bicycle Thief," a great classic Italian film from 1949 telling the tale of a man who stole a bike in order to get a job. Of course, there's more to it than just that.
Third note – I received a call from my number two son, who never calls during the day. Suspecting the worst, I quickly returned his call. He said that he was sitting in his car watching a man who had stolen his bikes, as the man meandered down the street, looking into driveways and into parked cars. My son also said he had been waiting for about 30 minutes for a deputy to come and arrest the thief. What had happened was that my son, returning home, saw a man pushing one of his bikes down the street. He knew it was his because of the child seat attached to it. He ran up to the man, accosting him. My son is an attorney but, more importantly in this instance, he is a rugby player used to rough and tumble and was ready for the worst. The thief easily gave up the bike, and it was returned to its place in my son's apartment. (The thief had to look over an enclosure about six feet high in order to locate the bikes).
That's when he noticed his other bike was gone, so he called the sheriff.
So, these three separate elements seemed to coalesce into one little drama
My son believed that there would be a quick response since the thief was still in sight and showed no intention of hurrying away.
A second call from my son thirty minutes later, and he said he was going to stop waiting for a deputy. The thief was now nowhere to be seen. Later, in the local crime report and the Beverly Press, the incident was noted as a grand theft. We were left wondering why no deputy showed up after the calls. Speculation brings to mind that something far more important kept the deputy away, too few deputies on hand to look into every call. And so forth. If I had not spent some official time on the street myself, I might be inclined to believe that this sort of crime, so common, is just one of the events we must expect in WeHo. But, often I have heard of a sort of cavalier attitude expressed by deputies when speaking to crime victims. I know that is one way to reduce some stress, but my son had a few other strong, explicit reasons, echoing other citizens with whom I've spoken. Anyhow, my son was given the case No. 06303 for reference.
I've been closely associated with the sheriff station in years past. Lt. Dave Smith and I met when we were on an orals board to choose a captain for the station. I worked a number of the open house events there in years past (by the way, the recent open house should be the forerunner of such events every year. Thank you, Captain Perez and volunteers.) Whatever the reason for a prolonged response, one bike still missing; one bike returned; one resident unhappy about the police response; one bicycle thief still out there.