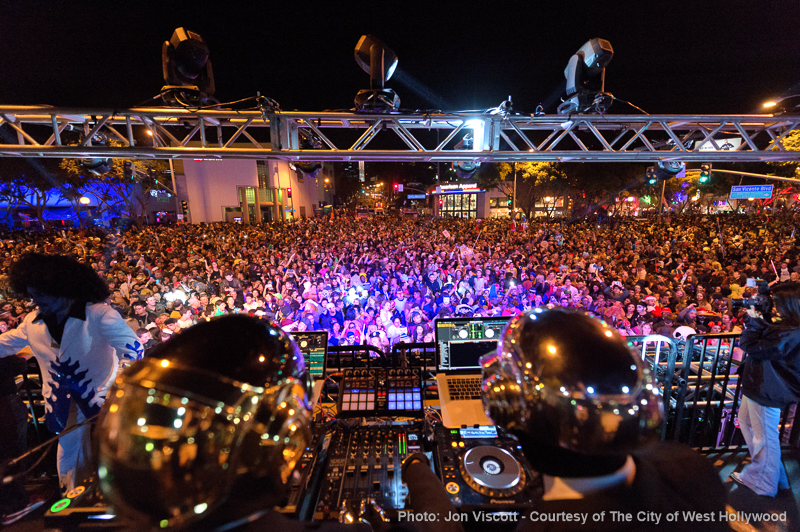 Hundreds of thousands of people turned West Hollywood into the country's most colorful and playful (and most densely populated) city for several hours last night.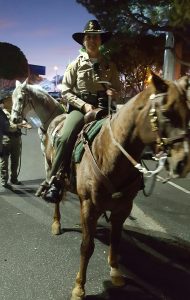 Visitors to the annual Halloween Carnaval paid tribute to the Creative City's creativity with an eccentric variety of costumes ranging from lavish bridal gowns (worn by boys) to enormous dragons to colorful clowns that no one saw as dangerous. And of course, given the (other) season, there was a plethora of political costumes.
The event also was safe. The L.A. County Sheriff's Department reported only four arrests, all related to drunk and disorderly conduct. That compares to three last year. In nearby Hollywood a Halloween crowd experienced 40 arrests, most alcohol-related.
Given worries about terrorist attacks in crowds in California and around the world, the Sheriff's Department stepped up security for last night's event. There were 100 additional security personnel and staff from specialized units such as the Arson Explosives Detail, K-9 units, Sheriff's Response Team Members (SRT), and members of the Special Weapons Teams. And a helicopter hovered overhead.
Mayor Lauren Meister estimated the cost of maintaining security this year at between $600,000 and $700,000. A study by an outside consultant estimated that Carnaval generated $2.8 million in spending in West Hollywood in 2014. Of that amount, $1.3 million went to local workers. That study estimated 225,000 people attended the event.
The event, which began in 1987, is widely believed to be the world's largest Halloween celebration. More photos are on the pages that follow: