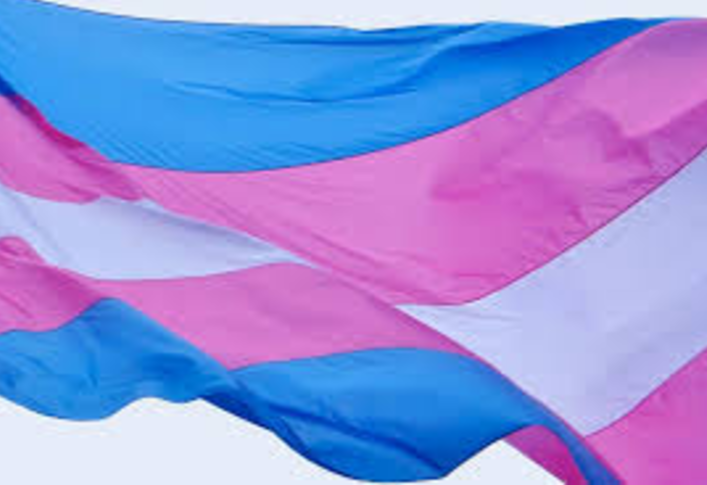 The City of West Hollywood and its Transgender Advisory Board tonight celebrated Transgender Awareness Month by lighting City Hall in the colors of the transgender flag. Transgender Awareness Month is recognized throughout the United States in November each year.
Members of the Transgender Advisory Board raised the transgender flag and then, at dusk, City Hall was lit in blue, pink, and white lights in observance of Transgender Awareness Month.Following the lighting ceremony, WeHo Arts and the Outfest West Hollywood presented "We've Been Around," a series of short documentaries created by Rhys Ernst, co-producer of the Amazon hit show "Transparent."
On Nov. 9 at 7 p.m., the Transgender Advisory Board will host its annual awards presentation at the West Hollywood City Council Chambers at 625 N. San Vicente Blvd. The awards will acknowledge community members and organizations for their work in the transgender community. A dessert reception will follow the meeting. The event will be televised live on WeHoTV. The awards presentation is free and open to the public.
On Nov.13 at 1 p.m., the city will host a transgender film festival at the City Council Chambers. The festival will feature two documentaries: "Raising Zoey," which chronicles 13-year-old Zoey Luna's fight for her right to self-identify in school despite being bullied and teased by students and officials; and "Shunned," an award-winning and thought-provoking film about the trauma and struggles faced by a group of trans women in the Philippines as they compete in a pageant. The festival is free and open to the public.
On Nove. 20 at 1:30 p.m., the city will host the Transgender Day of Remembrance ceremony in the West Hollywood Library Auto Court at 625 N. San Vicente Boulevard. The event will include speakers from the community, city representatives and transgender performers. The names of transgender people who have died as a result of hate crimes will be read aloud at the ceremony. The flag flown at City Hall will be flown at half-staff in remembrance. The ceremony is free and open to the public.
For events that take place at the City Council Chambers or at the West Hollywood Library Auto Court, validated parking will be available in the adjacent five-story public parking garage.