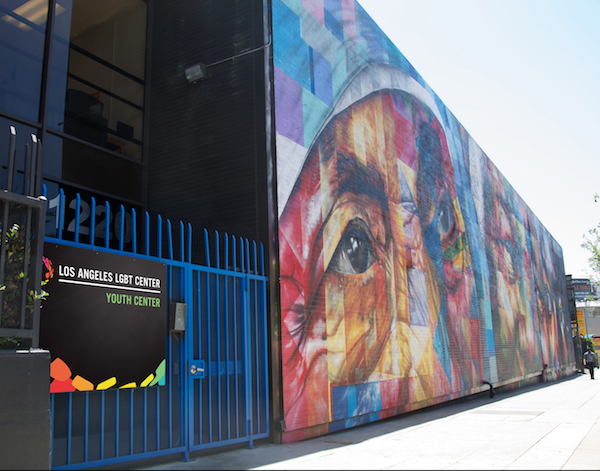 The odd release of a document from the L.A. LGBT Center has added fuel to the fight between the Center and some nearby residents who claim the homeless young people it serves at its building on Highland Avenue are causing problems in their neighborhood.
Jonathan Theriault, one of the activists who lives near the Youth Center on Highland, found a 160-page document on his doorstep last month that details by name and date violations of Youth Center policies by its clients (with their photographs). Theriault, who provided that information to WEHOville, argues that the number of violations and the type of violations indicates the Center's young homeless clients are the likely source of break-ins and assaults in areas adjacent to the Youth Center. In at least one instance, a young man whose photo is included in the document also appears in a video of someone trespassing in the garage of an apartment building nearby.
The document chronicles violations of Center policies from late 2014 into early 2016. In 2015 the document lists 156 individuals who violated one policy or another. Of those, 85 were permanently banned from the Youth Center. Thirteen of those banned were accused of fighting with or assaulting another client at the Youth Center. Twelve were accused of threatening the staff or other young people. Various other violations (all fewer than five each) include stealing/theft, assaulting a neighbor, not being a good neighbor, trespassing and destruction of property
Theriault was among those who raised concerns about the Center's young homeless clients at an August meeting at the McDonalds restaurant on La Brea Avenue attended by WeHo Mayor Lauren Meister and Sheriff's Capt. Holly Perez. At that meeting, Tod Hallman, an Eastside WeHo resident who is a member of the Eastside Working Group, said homeless young people and adults who receive services at the Center's Youth Center on Highland Avenue, at Michael's Village on Sunset Boulevard and at Friends Community Center on La Brea Avenue drift west across La Brea and into WeHo. Several West Hollywood residents spoke about being accosted or threatened by homeless people in their Eastside neighborhoods. Residents of areas east of La Brea and near the Highland Youth Center said some of the young people it serves were defecating on the sidewalk, acting in a threatening manner and trespassing on their property.
The Center has maintained that it takes all steps necessary to prevent the homeless young people it serves from bothering nearby neighbors.
In an email to WEHOville, Jim Key, the Center's chief marketing officer, said: "While the Center has taken steps to help reduce any potential negative behavior of our clients, including educating all clients on what it means to be a responsible community member, we do not have the ability, nor should we be responsible for, policing neighborhoods for the actions of people of any age, homeless or not, who are causing problems.
"We do what we can to be help, including daily outreach patrols of staff who engage with potential clients to encourage them to take advantage of our services. We also operate a daytime phone line for neighbors who want to report activity involving people they believe to be youth center clients, but we certainly cannot become vigilantes."
Key noted that the Center has offered services to homeless young people since the 1970s in that part of Hollywood.
"Today these services include a host of world-class educational and employment programs that are essential to ending the experience of homelessness and replacing it with a future that is optimistic and worthy of the young LGBT people in our program. In fact, last month we were honored by Cyndi Lauper's True Colors Fund—a national non-profit working to end homelessness for LGBT youth—for our successes."
" … some neighbors associate acts of trespassing, vandalism and theft with the young people we're helping," the Center said in an "Open Letter to the Center's Neighbors" published in its Vanguard Now magazine. "Some even associate armed robbery, spousal abuse and rape with our clients. These allegations have proven to be without foundation.
"The LAPD has said, many times, that the vast majority of crimes that are committed have no connection whatsoever to the Center. On the few occasions that Center clients have engaged in bad behavior, we have taken immediate action … If they violate our rules or the laws, we take appropriate action."
The issue has prompted a campaign by neighbors to oppose the Center's plans to build the Anita May Rosenstein Campus on McCadden Place. The Center hopes to open that building in 2019. According to its website, the campus will include up to 100 units of affordable housing for seniors, 100 beds for homeless youth (double the number the Center currently has on Highland), new senior and youth centers, up to 35 units of permanent supportive housing for young people, a commercial kitchen to feed homeless youth and seniors, ground floor retail space, and 350 subterranean parking spaces for residents and visitors. It also will house the Center's administrative offices.
Neighbors opposed the Rosenstein Campus launched a "Hollywood Is Home" campaign that included an online petition asking that the City of Los Angeles Planning Commission deny the Center's request for permission to build the campus until it can prove that it is providing enough security at the current youth center. The L.A. Planning Commission unanimously approved the campus project last month.
Mayor Meister told residents at the August community meeting that the Center should do more to provide security, noting that West Hollywood helps fund the Center's activities. At a City Council meeting she asked that city staffers work with the Center and two other area providers of services to the homeless — Friends Community Center and Michael's Village — and the West Hollywood Sheriff's Station on the issue. In an interview today, Meister, noting that the Youth Center is located in Los Angeles said that the L.A. Police Department and L.A. City Councilmember David Ryu also need to get involved.
Ryu has gotten involved according to his Director of Communications Estevan Montemayor. He held a community meeting regarding the Center's new Rosenstein Campus on Aug. 23 and listened to the concerns of local residents. Montemayor said that the Center and local residents agreed to the following:
— The required security plan shall include 24/7 security patrols.
— "No Loitering" signs shall be posted at appropriate locations on the project site.
— The Center will continue its street outreach in the surrounding area at a radius of a minimum of four blocks.
— The Center's youth guidelines shall state that youth clients will not loiter within 4 blocks of the project site.
— Any graffiti shall be removed/painted out with matching color within four business days.
"Homelessness is a regional problem that has intensified over the last few years," Montemayor said in an email to WEHOville. "Councilmember Ryu and his staff have met with West Hollywood representatives to discuss possible solutions. He looks forward to continued collaboration on this shared issue."
One Eastside WeHo resident, who declined to be identified by name, said he believes there has been a reduction misbehavior by the Center's young clients in his area since the August meeting.
"In our area, I feel like we have had positive success with the Center," he said "We have had a decline in issues. I know they are dealing with different issues east of us."
"I'm very pro the center. I think we need the Center … They need some additional security, some help with the Center."