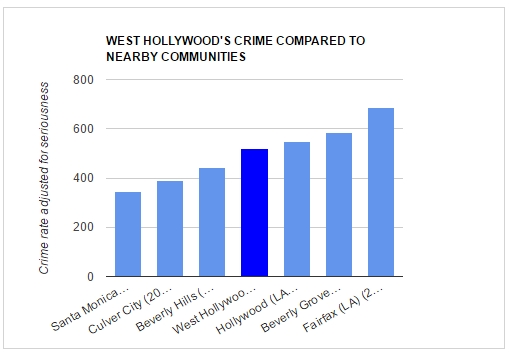 West Hollywood's crime rate — adjusted for the seriousness of the crimes — is lower than in nearby Los Angeles neighborhoods, but higher than in other Westside cities. That is according to a report by WeHo by the Numbers, based on its new crime "dashboard." The dashboard analyzes crime in West Hollywood, Beverly Hills, Culver City, Los Angeles, Santa Monica and hundreds of other California cities.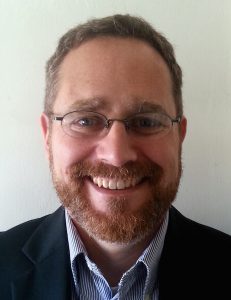 The dashboard starts with each city's crime rate. The crime rate is the number of violent and property crimes reported in a year, divided by the population. It is the most common way of comparing crime across jurisdictions and time periods. The FBI and the State of California use it. The dashboard's 2016 estimate for West Hollywood is 527 crimes per 10,000 residents. That is extrapolated from the sheriff's numbers for the first nine months of the year.
The dashboard then adjusts the crime rate to take into account the seriousness of the underlying crimes. If a city has more crimes like armed robbery and fewer like petty theft, the crime rate is adjusted up. If a city has proportionately fewer serious crimes, the rate is adjusted down. The dashboard uses prison sentences set by the California legislature as the measure of seriousness.
The dashboard looks at the adjusted crime rate over the last 10 years or so. In West Hollywood, the rate dropped significantly in 2013. It stayed around the same lower level for three years. This year, it appears to be rising back toward the pre-2013 level.
According to the estimates, the adjusted crime rate is up 14% this year versus 2015. That would leave it a bit lower than it was 10 years ago and less than half of what it was 30 years ago.
West Hollywood's adjusted crime rate puts it in the 89th percentile among California cities, higher than Beverly Hills, Culver City and Santa Monica. The rate is lower here than in three adjacent Los Angeles neighborhoods: Fairfax, Beverly Grove and Hollywood.
For more West Hollywood crime statistics, please see the full report, What does our new crime "dashboard" say about West Hollywood?