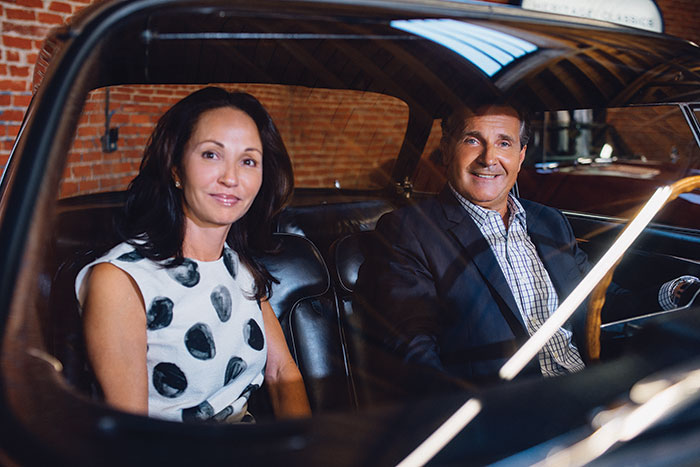 It was 1981. Ronald Reagan had just taken the oath of office and the Cold War was still very warm when a young Frenchman took a leap of faith and came to Los Angeles at the invitation of an uncle. Hervé Willems had had a life-long love affair with classic cars. His experiment with the American dream started when he sold a 1962 Mercedes-Benz 220 SE Cabriolet here that he had acquired in Europe. That first sale turned into two, two into four and Heritage Classics Motorcar Company was born. Heritage Classics now sells approximately 250 cars a year.
Two years after coming to California, Hervé met Solange, the woman who would become his wife and business partner, in West Hollywood. Fate? They married soon thereafter and lived their first five years together here. They've been life and business partners now for 33 years. Hervé does all the buying and oversees the restorations and repairs and Solange does the administration and website.
Heritage Classics opened in its present location on Santa Monica Boulevard in 1992. The building, in front of The Factory and on the corner of Santa Monica at La Peer, was a European car dealership prior to their occupancy, so it's a natural showroom with a small service bay in back. Most days they open the large sliding glass doors so the fresh air wafts in, and thousands of daily drivers and countless gawkers in Hollywood tour buses are treated to the amazing auto eye candy inside. At night, the lit showroom glows like an Edward Hopper painting.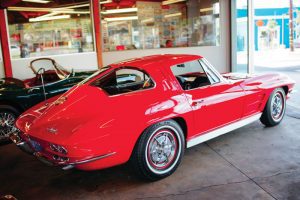 Heritage Classics owns most of its inventory. Only if a car is perfect will Hervé consider taking it on consignment. Once you are a customer, you are a customer for life. If you want to sell it back or trade it for another, Hervé is happy to do it. Most of the cars come to him needing varying levels of work, and Hervé knows all the right people to do the work. Heritage Classic's stellar reputation in the classic car community means that all the cars they sell must be not just cosmetically beautiful but mechanically sound.
Hervé doesn't need to scour the Internet to find cars. After all these years, people know to call him when they want to buy or sell a classic car. He also has great relationships with new car dealers. New car dealerships don't keep classics in inventory, so if a customer comes to the dealer with a classic to trade, Heritage Classics gets the call and Hervé facilitates the trade both by appraising and then buying the classic car.
But the hardest part is finding the right cars to buy. There are so few good examples left that finding a buyer isn't as hard as finding that one great car. Heritage Classics doesn't sell on eBay or other auction sites. Its own website drives the international traffic and the perennially strong Southern California classic car market drives the walk-in business.
Today's customers are looking for the Double D: Design and Drivability. They want a classic car that they can drive, even if it's just for a short time on a Sunday. They don't want to just stare at it in a hermetically sealed garage or private museum. And that's where Heritage's reputation comes into play. Heritage Classics sells authentic classic cars (not reproductions or reclaimed wrecks) that start and can be driven on the road. It's not unusual for a customer to drop a ton of money on a classic car he sees online without ever driving it or seeing it in person. Of course, if you have that kind of money, you just send your personal representative out to look at it for you or hire a local mechanic to check it out.
The current trend is away from American muscle cars and towards fine, classic European sports cars. While all types of cars have graced the Heritage showroom, what Hervé finds and sells over and over is the original 1954-1963 Mercedes-Benz 300SL Gullwing and Roadsters. At this year's Pebble Beach Concours d'Elegance, a particularly rare all-aluminum-bodied Gullwing 300SL caught his eye. Only 29 were built for special delivery to racing customers and restored examples easily sell for more than $5 million.
While Heritage Classics has a wide variety of inventory at different price points, the most expensive car it has sold to date was a 1961 Ferrari 250 GT California for $6 million. Think Ferris Bueller's Day Off. Earlier this year, a similar Ferrari sold at the Amelia Island Concours d'Elegance for a stunning $17 million.
You want unique? How about a Cadillac that you've never seen before—the 1961 Cadillac Jacqueline. Never heard of that model? Neither had I. This beautiful hardtop coupé was a one-off model, coach-built by legendary Italian car design house Pininfarina for the 1961 Paris Auto Show. First Lady Jacqueline Bouvier Kennedy's unique grace and style was the inspiration for the car. One of its most striking features was its stainless steel roof, which seemingly floats over the car supported by only thin, graceful front and rear pillars. It was never presented to Mrs. Kennedy, and it stayed in Italy at Pininfarina until Hervé bought it. It's sold now, but you can see more pictures of it on the Heritage website.
There are wacky buyers too. One day in the late 1990s, the FBI came to visit Heritage Classics. Most of the time, you don't want the FBI knocking on your door. But that day, FBI agents spent hours crawling all over the building, checking exits, looking for security flaws. Hervé was told that some VIP wanted to shop. Now celebrities are no strangers to Hervé and Solange; they've had celebrity clients for years but none of them had an FBI advance team. This was something different altogether. The FBI asked who would be assisting this VIP. That salesperson was given instruction as to how to address royalty! Come closing time, still nothing. Then it all happened quickly. The FBI shut down Santa Monica Boulevard, in both directions, at 6 p.m. rush hour for about 20 minutes. The royal, King Hussein of Jordan, came in for about 10 minutes and bought one of the least expensive cars on the floor, a 1949 Cadillac Convertible. The next day the car was paid for and shipped off to Jordan. While King Hussein died shortly thereafter from lymphoma, the car remains in the Royal Collection in Jordan.
Then there are the celebrity stories that never die. Several years ago, Heritage Classics had an authentic, original 1960s-era Ford GT40 racing car. These cars are exceedingly rare, and only slightly more than 100 were produced during its original run from 1964 to 1969. The GT40 won the 24 Hours of Le Mans four years in a row, from 1966-1969. It's a legend.
Local car collector, talk show host and comedian Jay Leno heard about it and wanted it, but he didn't want to pay the asking price of $330,000. Hervé didn't want to give him any discount, but for the publicity, they agreed to sell it to Jay for $300,000.
It was arranged for Jay to pick it up himself that coming Saturday. Come Saturday, Jay showed up with the promised cashier's check for $300,000; but he wanted to hear the car started first. Hervé hadn't started the car in a while because it was so loud it woke the dead. After all, it's a racing car, not a Lexus. When Hervé turned the key, the starter wouldn't kick in—it needed a jump, nothing more. Jay got upset, said you knew I was coming, and walked away from the deal. The next day, another customer called, heard about the GT40 and bought it for the original asking price.
A few days later, Jay called back and asked if the car was ready. When Jay found out that someone else had bought it, you could see the fumes coming all the way from Jay Leno's garage in Burbank. To this day, Jay is pissed that he didn't get that GT40. Now GT40s sell for millions of dollars. And if it has race-winning provenance, prices can top $10 million.
Hervé and Solange have a son and a daughter. Unfortunately, neither of their children are interested in the business. As a life-long car enthusiast, I can't fathom why anyone wouldn't want to be surrounded by gorgeous rolling art every day. Heritage Classics is a little slice of classic car nirvana right here in West Hollywood.
Todd Bianco is a life-long car enthusiast. From his early childhood counting air-cooled Volkswagens to his current life in West Hollywood counting Teslas, Bianco has always followed the evolution of cars and the local car culture. He's owned several classic cars, including a 1969 Mercury Cougar XR-7 convertible, a 1973 Porsche 914 and a 1972 Cadillac Eldorado convertible. He never did get that red 1966 Mustang convertible he lusted after as a kid, but he drives a modern muscle car, a Dodge Charger and still owns and drives a diesel Mercedes from the years when the brand was still run by the engineers.
Bianco wrote this story for the Fall issue of West Hollywood Magazine. To order a copy or find a place where it is sold, check online.
More photos of Heritage's classic cars are on the pages below: