In its final days, the 2016 presidential election has become something like a suspense movie for some of us (Alfred Hitchcock's "Psycho"?) Now the question is, where are we going to watch it come to an end?
If you want to share the glory (or the sadness), consider spending Tuesday night at one of the many West Hollywood bars and clubs that are turning down the EDM or turning off the DJs to project Election 2016 on their monitors.
Given that it is West Hollywood, an overwhelmingly Democratic and liberal city, the crowds are likely to be Hillary Clinton supporters. That certainly will be the case at The Abbey, which is hosting an elections return party for HRC for HRC (the Human Rights Campaign for Hillary Rodham Clinton) and for Hollywood for Hillary.
No reservations are needed. Election coverage will begin at 4 p.m. on TV screens and the LED wall at both The Abbey and The Chapel. Expect a few words from HRC for HRC around 8 p.m. The Abbey is located at 692 N. Robertson Blvd. south of Santa Monica.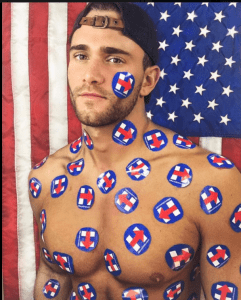 If you're a Boystown regular, you also might consider putting on some boots and a cowboy hat and stopping by Flaming Saddles. Chris Barnes, who owns that gay country/western venue with Jacqui Squatriglia, says it is hosting "High Five for Hillary," an event that will feature election returns on all of its TV monitors and its big screens. And to really celebrate (or drown your sorrows), drinks will be $5 each all night long. Flaming Saddles is on the northeast corner of Santa Monica Boulevard at Larrabee.
Micky's, known for its go go dancers and its cocktails (as well as its very attractive clientele), is kicking off election night at 5 p.m. with coverage on all seven of its screens. Owner Michael Niemeyer says Micky's "will have a champagne party when Hillary is declared the winner." Mickys is at 8857 Santa Monica Blvd. just west of Larrabee.
Just east of Micky's at Revolver (8851 Santa Monica Blvd.) it will be "HerStory" night, organized by "Bros 4 Hillary." The event starts at 4 p.m. If you're a woman, a Facebook post suggests, you might consider wearing a Hillary-esque white pants suit. And guys, this is a night for shirts.
Tuesday is Taco Tuesday, of course, at Fiesta Cantina. That bar on 8865 Santa Monica Blvd. just east of San Vicente is a place where every night is a celebration, thus its name. In addition to tacos (one of Donald Trump's favorite foods, he says) Fiesta Cantina will have the TVs on broadcasting final election results.
Bar 10, which has packed itself with politicos on every debate night, will be showing the election returns on two TVs over the bar as well as a projector screen on the other side of the bar. And there's a patio outside for those who want to take a break from the political tension. Bar 10 is at 8933 Santa Monica Blvd. west of Hilldale.
In WeHo's MidCity area is Gold Coast, one of WeHo's few (really two) dive bars, is known for having the cheapest beer in town, easy parking and its pool table and a gay crowd of very mixed ages. "We're all in" a staffer told WEHOville. "We're going to have pizza and balloons and party favors and kitschy stuff." Gold Coast is on the southeast corner of Santa Monica Boulevard at Harper, with parking in its lot and in the city lot behind it.
For the LGBT crowd that wants to venture outside West Hollywood, but not far away, the L.A. LGBT Center is hosting a "Let's Make History Tonight" election party at Next Door Lounge. The event runs from 5 p.m. to midnight, and presumably the history that the Center is celebrating is the election of the first woman president in American history.
Admission is free, along with food. There will be a cash bar with specialty cocktails. Next Door Lounge is located at 1154 Highland Ave. You must RSVP online to attend.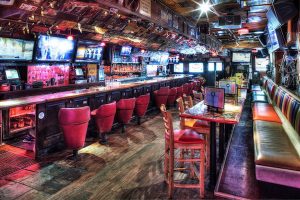 At Barney's Beanery you actually can vote, sort of. A call for a Bud Light on draft says you're for the Donald according to a Barney's staffer. A request for a Coors Light puts you in the Hillary camp. There is no possible way you can miss the election results at Barney's, known as the place to go to watch a baseball, football or basketball game. It has 28 televisions, 12 mini TVs and two big screens, all of which will be on full blast while the count is taken. Barney's Beanery is at 8447 Santa Monica Bvd. (really Holloway Drive) just west of Hacienda Place.
Those of you old enough to remember the era of the first man who promised to make America great again (that would be Franklin D. Roosevelt), or at least have heard about him from Mom or Dad, might appreciate the 1930s flavor of Harlowe. Named for Jean Harlowe, the classic 30s actress, it offers what one critic calls "a taste of Old Hollywood for the modern era." Harloww will have a projector showing the election returns (without sound). And it will reward those who wear a vote sticker with a free shot of the bartender's choosing. Given that it's taco Tuesday, Harlowe also will have regular food specials and a $5 shot and beer special from 5 p.m. until the polls close. Harlow is at 7321 Santa Monica Blvd. west of Greenacre.
A few of the bars on the Sunset Strip also will be focused on the most divisive election in modern times. Consider Rock & Reilly's. The Irish have had their own experience with major political division. It seems Rock & Reilly's is taking this one in stride. The bar is encouraging a vote, offering a free shot to anyone who comes in with an "I Voted" sticker.
While you are watching the election returns on the screen at the bar, you might also sample some of the election specials available from noon to 8 p.m. There's Trump's Build-A-Wall Burger (not a Mexican treat) for $8. (You build your own burger, and there's a Make Burgers Great Again option of add-ons for $4). Not to be one-sided, Rock & Reilly's also is offering the Clinton Burger (delivered by a private server), which also is $8 and features soft eggs. That's part of its tribute to Clinton, who told the Washington Post "I'm a lousy cook,, but I make pretty good soft scrambled eggs." Rock & Reilly's will be airing those election results at its location at 8911 Sunset Blvd. west of San Vicente.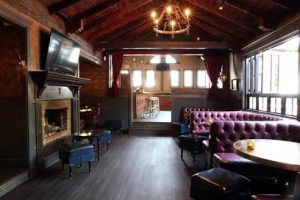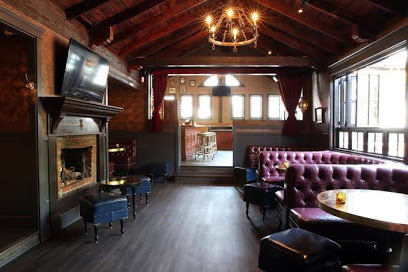 The Den on Sunset, the closest thing to a tavern in all of WeHo with its fireplace and outside patio, will have the election countdown broadcast on all the TV's inside. For those guests who want to take a break from this grueling campaign season, the Den will keep the music flowing on the patio. Happy hour is 5 to 7 p.m., with $2 off all beers and wines by the glass, all collins and all mules cocktails. The Den is at 8226 Sunset Blvd. between North Harper and Havenhurst.
But what do you do if you're just over all this crazy campaigning and happy to find out who the 45th president of the United States is when you wake up Wednesday morning?
Consider Bar Lubitsch at 7702 Santa Monica Blvd. near North Stanley. Bar Lubitsch will be rolling along Tuesday night with its weekly series of band performances (on Mondays, Tuesdays and Sundays). Tuesday night's set up includes Amber Ikeman, Esemae and The Violet Wine. Tickets are $10 to listen to the band in the back. But the front of the bar has no admission fee and offering a $7 drink special called the Greyhound, which consists of vodka mixed with grapefruit juice.
And then there's Jones Hollywood at 7205 Santa Monica Blvd. west of Formosa on WeHo's Eastside. "We don't have a television. That should answer your question," said a staffer when questioned about Jones' election night viewing plans.
Is there a place we've missed? Email Henry@WEHOville.com is there's another West Hollywood bar screening the election returns Tuesday night and we'll update our list with that information.