Callum McSwiggan, the British gay YouTube personality, pled guilty Monday to a felony vandalism charge and has been sentenced to three years probation and ordered to complete 52 anger management classes.
McSwiggan, 26, also paid $7,000 in restitution in connection with his guilty plea, according to the Los Angeles County District Attorney's Office.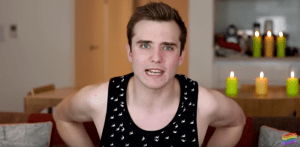 McSwiggan was arrested in West Hollywood in June after an altercation with three men, according to prosecutors.
McSwiggan, who has a large YouTube following, took to social media to allege that he had been brutally beaten in West Hollywood's gay nightlife area. His allegations created an uproar, with many lamenting what they saw as a hate crime. But later the uproar turned against McSwiggan, who was accused of lying.
"Last night was the worst night of my life, and I'm really struggling to find the words to talk about it," McSwiggan said in a post on his Facebook page. "After one of the most wonderful weekends at VidCon we went out to a gay club to celebrate, and towards the end of the evening I was separated from my friends and beaten up by three guys."
McSwiggan said he had attended VidCon, an annual online video conference in Anaheim, and then went with friends to The Abbey in West Hollywood on Sunday night. McSwiggan said that he was beaten up after leaving the Robertson Boulevard bar about 2:30 a.m. Monday morning.
But deputies from the West Hollywood Sheriff's Station quickly discovered that McSwiggan's claims were untrue.
"Responding deputies were unable to substantiate the assault," the Sheriff's Department said in a press release. "Mr. McSwiggan, who had no visible injuries, was subsequently arrested after deputies observed him vandalizing a car in the 8900 block of Santa Monica Boulevard. After being booked and photographed, Mr. McSwiggan was placed into a cell by himself at West Hollywood Station. Mr. McSwiggan was then observed injuring himself with the handle and receiver to a payphone inside the cell. Medical personnel were summoned and Mr. McSwiggan was transported to a local hospital for treatment."
A misdemeanor charge alleging that McSwiggan had made a false report about the run-in with alleged assailants was dismissed.