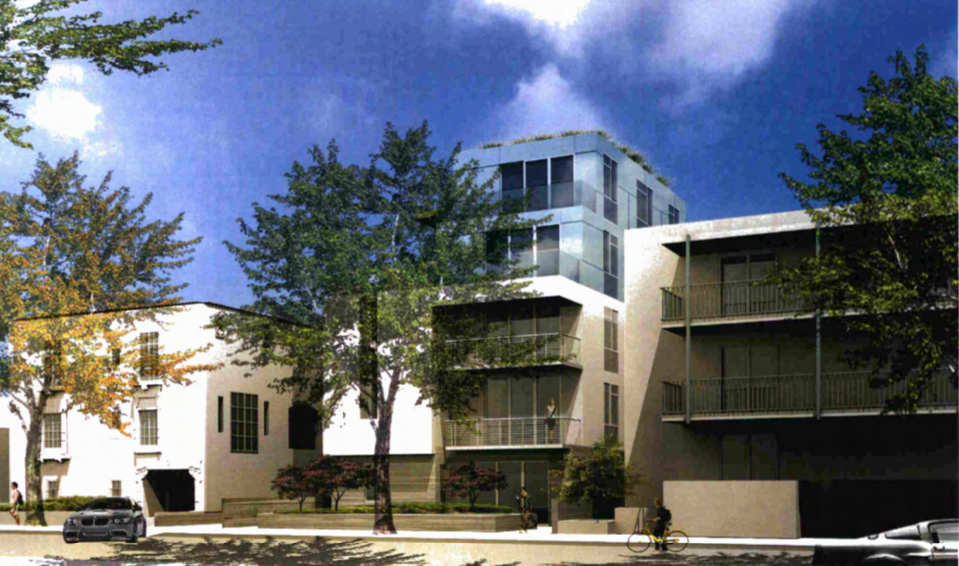 The West Hollywood City Council last night rejected an appeal of the city Planning Commission's decision to permit construction of a five-story condominium building at 1216 N. Flores St.
The Planning Commission's initial approval of the project was rejected by the council in December 2015, with some members objecting to the staircase on the front of the building, its height and its facade, which didn't blend well with those of the Spanish Colonial-style buildings in the neighborhood.
Two area residents, George Credle and Robert Emmons, each separately appealed the Planning Commission approval. Credle appeared before the council last night and praised some of the changes made by the developer, including reducing the square footage of the condo units. But he said he and his neighbors remained concerned about the mass of the building. Credle also said he was concerned that the building met city parking requirements only by providing tandem spaces, which is a situation where one space is behind another one.
Another resident also objected to the size, noting that the four units that once had been on the adjoining lots now would be replaced by 14.
Some opponents to the project argued that its size would cast a shadow on the historically designated building next to it. But Ed Levin, a prominent local architect who serves on the city's Historic Preservation Commission, said the project doesn't violate historic preservation rules because it doesn't cause a "substantial adverse effect" merely be casting a shadow on it.
Typically a 9,000-square-foot site such as the one at 1216 Flores would only be allowed to accommodate a four-floor, ten-unit building. But the developer, Ground Up Development, owned by Boaz Miodovski, agreed to add five units priced for low- or moderate-income people, allowing the project to qualify for 14 units.
A report from the city's Community Development Department noted that the developer had made several changes in response to concerns voiced earlier. They include relocating the exit staircase from the front of the building, eliminating proposed balconies that would face an adjoining building, reducing the massing at the front of the building and using different materials for the front facade so that it was better integrated with the look of the buildings around it.
The City Council denied the appeal in a 3-to-2 vote, with Mayor Lauren Meister and Councilmember John D'Amico opposing the project. Meister said that despite the changes she still felt the design doesn't fit with the rest of the street. Councilmember Horvath voted to deny the appeal but asked that city staffers determine whether the tree in front of the building should be preserved.