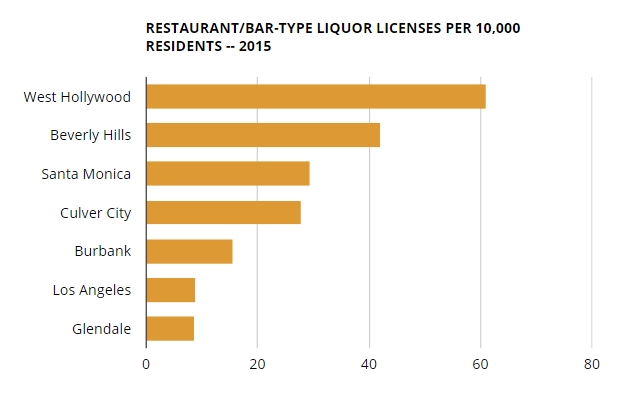 West Hollywood has more restaurant/bar-type liquor licenses per square mile than any other city in California. That is according to a new report by WeHo by the Numbers based on data from the state.
Liquor licenses are issued by the California Department of Alcoholic Beverage Control (ABC). A recent check of ABC's website showed 234 active retail licenses in West Hollywood. Of those, 197 were "on-sale" licenses typically issued to restaurants and bars. The other 37 were "off-sale" licenses for stores that sell alcohol.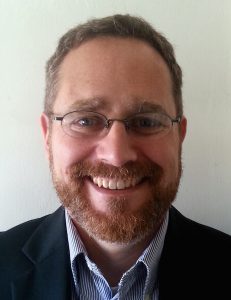 The report used detailed city-by-city license counts from June 2015. At that point, West Hollywood had 37 store licenses and 219 restaurant/bar-type licenses for "eating places" and "public premises."
The report compared West Hollywood to other cities in three ways. The first was the total number of restaurant/bar-type licenses. West Hollywood ranked 24th. The 23 cities with more licenses were larger communities. Los Angeles was first and Santa Monica was 12th. Santa Ana ranked just above West Hollywood. Palm Springs was just below.
The second comparison was based on the number of restaurant/bar-type liquor licenses per capita. West Hollywood had 61 for every 10,000 residents. That was roughly 50% more than Beverly Hills (42) and twice the level in Santa Monica (29) and Culver City (28). It was four times higher than Burbank (16) and six times the number in Los Angeles and Glendale (9).
Statewide, West Hollywood was in the 96th percentile for licenses per capita. Many of the cities with more licenses per capita were vacation destinations. They had more visitors who were not included in the per capita calculation. Examples included Carmel, Big Bear, Avalon, Solvang and Mammoth.
The third calculation was based on the number of restaurant/bar-type licenses per square mile. West Hollywood had 116. That was more than any other city in California, though there may be neighborhoods with higher concentrations elsewhere. West Hollywood's 116 was almost twice as many as the next city, Carmel. Santa Monica, Beverly Hills and Culver City were in the top 20, as were cities like Hermosa Beach, Manhattan Beach and Redondo Beach.
To see the numbers for 476 California cities, go to the full report, How many liquor licenses are there in West Hollywood?