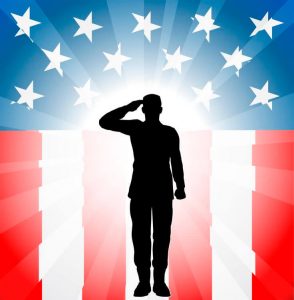 The City of West Hollywood will honor veterans and active members of the United States Armed Forces during its annual Veterans Day Program on Friday.
Community members are invited to join city officials, City Hall staff members and representatives from the West Hollywood Sheriff's Station and the Los Angeles County Fire Department in honoring local veterans beginning at 10 a.m. with a presentation of wreaths at the Sal Guarriello Veterans' Memorial, located on the corner of Santa Monica Boulevard and Holloway Drive. A free shuttle will depart at 10:30 a.m. to take guests to the City Council Chambers at West Hollywood Library, located at 625 N. San Vicente Blvd., for the Veterans Day Program, which begins at 11 a.m.
The Veterans Day Program, "Honoring and Supporting Veterans," will recognize those who have served in the U.S. Armed Forces with speakers and brief speeches by members of the West Hollywood City Council. There will be representatives from local veterans' organizations and the UCLA ROTC Air Force Color Guard. In recognition of the important role that animals play in helping to support troops and veterans, there will also be a representative from the organization Animals for Armed Forces and a screening of the short video Dear Captain, K9s For Warriors.