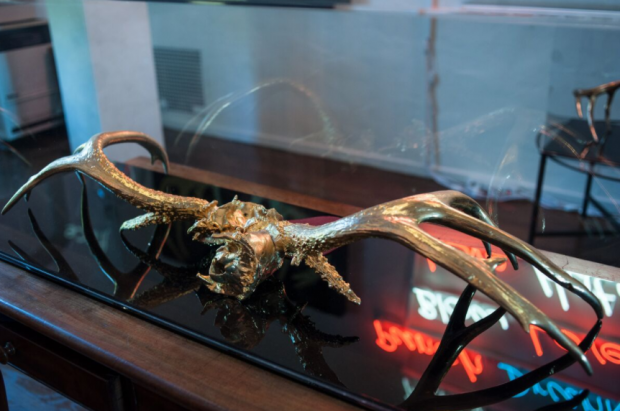 The Artist is a series of occasional profiles of interesting and creative artists who live in West Hollywood or whose work focuses on West Hollywood.
The fairytale-turreted Beau Sejour building, boasting Corinthian molding, decorative frieze panels, arched entries and weather vanes, has been a cornerstone of West Hollywood's Courtyard Thematic District since 1928. Designed by Leland A. Bryant, early Hollywood's go-to architect for luxury apartment buildings, today the blue-hued Chateauesque complex serves as the home-studio of British artist Carl Hopgood and his poodle Pippa.
The devilishly handsome Hopgood, who is as skilled at collaborating with Ellen Von Unwerth on a Cara Delevingne shoot as he is in his studio working on a commission, is a country boy at heart. While growing up riding horses on a farm in rural Wales, the young Hopgood was introduced to Hollywood through the grandparents of a school friend who were related to Richard Burton.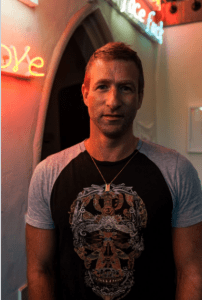 "They always used to talk about Liz Taylor going to their house. Not a lot of people knew that they came to Wales to visit quite frequently," Hopgood said.
He moved to London in 1991 to study art at Goldsmith's College and arrived at the center of a creative explosion.
"It was a really amazing experience, partly because people like Damien Hirst had graduated from there, so it had a buzz about it," Hopgood said. With fellow alumni including Ceal Floyer, Jason Martin and Angela de la Cruz, the bar was set high, and being taught by Michael Craig-Martin, noted for fostering the Young British Artists, helped Hopgood realize his ambition.
"Being at Goldsmith's gave you the hope that you could fulfill your dreams," he said.
While at Goldsmith's, Hopgood did set design for Simon Costin [the legendary set designer behind the show spaces for Gareth Pugh and Alexander McQueen]. After graduating in 1994, Hopgood hit the ground running with a solo show, "Arrivals and Departures." His star has been in ascendant ever since.
Hopgood relocated to West Hollywood in 2014 where he ended up living in the same apartment that John Wayne frequently stayed in many years ago.
"My friend Bradley Garlock [a production designer friend of David LaChapelle] said there was a room going in a building on North Harper Avenue, so before I got my visa I came by to have a look at it and was seduced by the Old Hollywood architecture," Hopgood said. "It was such a wonderful surprise to discover West Hollywood. It's like a beautiful little village."
Being of dual heritage, half Greek and half Welsh, has informed Hopgood's art.
"A lot of my work is influenced by Greek mythology," he said. "I visited Athens many times as a kid."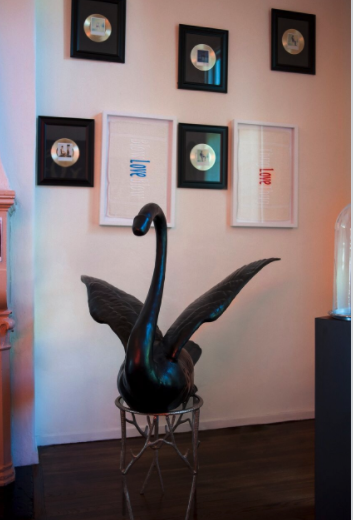 Leda and the Swan, which is a story from Greek mythology in which the Zeus, in the form of a swan, rapes Leda, inspired one of his pieces. Never one for treading on eggshells, Hopgood's black swan becomes a winged phallus, a symbol of fertility, good fortune and protection.
Hopgood's artistic oeuvre frequently harks back to his years spent nightclubbing in London, as referenced in his digital taxidermy pieces. "The seedy world of nightlife always appealed to me," Hopgood said. "The owl piece is like a metaphor for my life at that time because they are nocturnal. A lot of my youth was spent in nightclubs out partying: preserving something in a bell jar is like a museum piece, but it keeps it alive at the same time."
The nocturnal aspect to his work is echoed in his neon word pieces. "Love Yourself," which recently sold at a charity auction hosted by Kenny Goss for MTV's Staying Alive Foundation at Dallas Contemporary Museum, pays homage to his new home, where the gaudy glow of neon is almost as ubiquitous as the (imported) palm trees. In the piece, the two loves come and go while the "you" remains constant. "There's always movement in everything that I do," Hopgood said.
Recycling found objects is a key component of his work, as well as creating something immortal.
"I often project a film onto a found object, so for example in the piece called 'Can Can Dancers' I got two beer cans that had been drunk, sprayed them black and then diamond dusted them and projected two nightclub dancers onto the beer cans," Hopgood said. "Golden Hand Shandy," which again incorporates recycled cans, is another irreverent reference to his hedonistic past.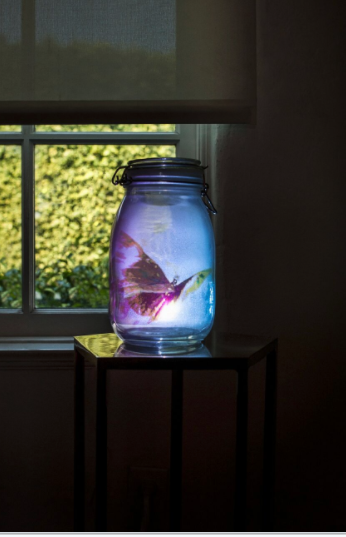 By projecting film onto marble figures, he brings them to life. "I am interested in the way Egyptians gilded all their statues. The projector becomes the sculpture's life support machine. And the material of the gold leaf also becomes its life support machine because it keeps it perfect and everlasting," Hopgood said.
Playing with the concept of luxury is another theme of his work. The gold-plated horns in glass cabinets echo the retail experience of an exclusive store, but there's a twist. "I found the horns that no one really wanted. They were already in a deteriorated state, so by making these crumbling antlers into a gold-plated showcase I am celebrating the rejects, the ones that weren't in good shape. It's about preserving."
The natural world, then, is intrinsic to his work, mixed with the hedonism of his former life in London. "I hate the idea of hunting and killing animals," he said. "That's why I love the digital taxidermy. No animal got killed in the making of it." The owl, it transpires, was featured on "Project Runway." "That's the great thing about being here, you get so many more opportunities," said Hopgood, who is represented by William Morris's the Wall Group.
A typical day in West Hollywood looks something like this for the artist:
"I'll take the dog for a walk, have breakfast, go to the gym – I often get ideas when I'm on the treadmill – then come back to the studio to work. Then I might have a trip to a factory where I get the gold horns plated so I'll drive down there and see how they're getting on. Then I might go to LACMA or the Broad to get inspired. I also like Regen Projects on Santa Monica Boulevard and LA Louver, an art gallery in Venice focusing on American and European contemporary art. On other days I might go off and film some butterflies in Pasadena, where they have a butterfly sanctuary. In the evening I might go to Soho House. Everything's at your fingertips here," Hopgood said.
Inspired by American artists Matthew Barney and Jack Pierson, Hopgood was first introduced to the charms of Los Angeles through the work of Britain's greatest living artist, David Hockney. With Los Angeles fast becoming a global art metropolis, it suits Hopgood to be living at the center of a contemporary art explosion. And in West Hollywood he borders the place from which modern day image making emanates. "I've always made works with film, actually I film most of them myself. But there is definitely an audience for it in Hollywood where the film industry is."
"The funny thing is," Hopgood explained, "geographically Wales is very like California in terms of its landscape. It's coastal, mountainous and spread out. Not the weather obviously! And you have to drive everywhere.
"Where I lived in the countryside there was one bus every hour, so it was remote and sometimes I think L.A. can be quite remote. Here is where I assimilate it all. I feel like I'm home," Hopgood said. You can take the boy out of Wales, but you can never take the Wales out of the boy.
Richard Bence, British-born and L.A.-based, has over a decade of experience as an editor, copywriter and digital content creator covering culture, design, architecture, fashion, travel and lifestyle. He currently is editor at large for BritWeek magazine and is West Coast contributor for Monocle magazine.
More of Hopgood's work can be seen on the following pages: