Estevan Montemayor, chair of West Hollywood's Public Safety Commission, has asked that it consider recommending the City Council enact a ban on the sale of meth pipes.
Those devices typically are small pipes made of glass with a bulb on one end. They are sometimes called "oil burners" and frequently are available in tobacco shops.
Montemayor's request was the commission's latest response to the meth epidemic in West Hollywood. Methamphetamine is a highly addictive drug whose use is common among gay men, who make up 40% of WeHo's population. Among other things, it stimulates one's sex drive. It also can lead to a number of serious health issues including premature death.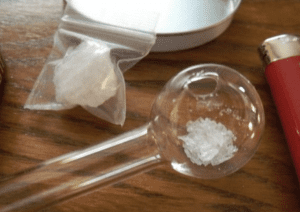 Montemayor and members Ben Coleman and Tory Berger raised the meth issue at the commission's Oct. 10 meeting, urging the West Hollywood Sheriff's Station to do more to arrest meth dealers.
While a major issue in the city's gay community, the use of meth has gotten little official attention from the city's elected leaders, some of whom have focused on the availability of help for drug addicts rather than taking steps to curb addiction.
That changed somewhat when WEHOville published a story on Sept. 19 that noted that Grindr, a mobile phone app that gay men use to find sexual partners, allowed dealers to openly market meth. Grindr is headquartered in West Hollywood.
Mayor Lauren Meister said she would arrange a meeting with Joel Simkhai, the founder of Grindr, to discuss the issue. To date Simkhai hasn't agreed to meet. However, some weeks later Grindr did take steps to block the use of emoji and text that signaled drug sales and use on the app, something its major competitors had already done.
Patrick Shandrick of the city's Human Services Commission raised the meth pipe issue at a joint meeting last night with the Public Safety Commission.  Shandrick said that meth pipes are visible in the windows of some shops and might trigger those in recovery to reuse.  If the city can ban the sale of fur it should be able to ban the sale of meth pipes, he argued.
In an interview with WEHOville, Montemayor said he agreed with Shandrick. "Why is it possible for the city to ban fur, but it hasn't banned the sale of meth pipes?" he said. "It's wrong. We care about the most vulnerable, including our animals, and we also need to care about the people on our streets who are vulnerable to this very addictive drug."
Human Services Commissioner Steven Davis spoke against a ban, saying he felt it would only move the sale of meth pipes underground. Davis said that, as a business owner, he was opposed to such bans.