The City of West Hollywood is one of seven cities and counties in the United States to receive an award for its support of solar power.
The award is made by the SolSmart Initiative, a program funded by the U.S. Department of Energy. Indianapolis received the SolSmart Silver designation. West Hollywood was one of six communities to receive a SolSmart Bronze designation. The others are Charleston County, S.C.; Inyo County, Calif.; Perry, Iowa, and Orlando and Pinecrest, Fla. California's Claremont and Redwood City, previously designated SolSmart Bronze, moved up to the SolSmart Gold designation. All of the designees will be honored today at the National League of Cities City Summit in Pittsburgh, Penn.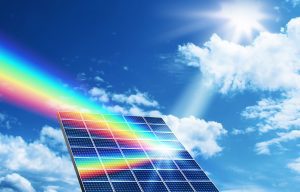 A SolSmart designation signals that a community is "open for solar business," helping to attract solar industry investment and generate economic development and local jobs. Communities receive designation for adopting programs and practices that help reduce costs and make solar more accessible for residents and businesses.
To achieve designation, the cities and counties had to act to reduce solar "soft costs," which are non-hardware costs that can increase the time and money it takes to install a solar energy system. For example, Inyo County developed an expedited permitting process for small-scale solar energy systems and instituted a small-scale solar friendly zoning ordinance.
The SolSmart designation focuses a national lens on West Hollywood's commitment to sustainable energy and on the city's efforts to streamline the approvals process for qualifying solar energy systems, which provide ecological benefits.
West Hollywood is one of the nation's first cities to adopt a mandatory green building ordinance. Since adopting its first Climate Action Plan in 2011, the city has addressed solar access protections and encouraged the solar orientation of new buildings in its Municipal Code; it has installed solar photovoltaic arrays on the roofs of the West Hollywood Library and the automated parking garage at West Hollywood City Hall; and it has streamlined its approval process for qualifying solar energy systems.
The SolSmart designation team, led by the International City/County Management Association, awards communities points based on the actions they take to reduce soft costs and other barriers to going solar. Based on the number of points they receive, communities are designated either gold, silver, or bronze. Cities and counties receiving a silver or bronze designation will have the opportunity to increase their point total and move up to the gold tier in the future.
A team of national solar experts led by the Solar Foundation offers no-cost technical assistance to help participating cities and counties achieve designation. Communities can also apply to host SolSmart Advisors, fully-funded temporary staff who provide personalized, hands-on assistance to communities for periods of up to six months. The first round of communities selected to host SolSmart Advisors will be announced in the coming weeks.