In honor of World AIDS Day, The Advocate is bringing three installation panels from the AIDS Memorial Quilt to Los Angeles for display at the Wallis Annenberg Center for the Performing Arts and the Beverly Hills Public Library. The panels will be on display at these venues beginning Monday and though Dec. 4. The AIDS Memorial Quilt was originally sewn together by friends, lovers and family members as a memorial to those who had died of AIDS.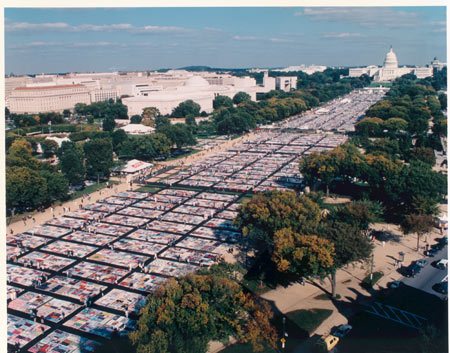 "Now is yet another time we need to remember the resilience of our community, and the people who we lost before someone listened to our protests," said Lucas Grindley, editorial director for Here Media, publisher of the Advocate. "Rates of HIV infection are still far too high. The CDC reports that half of all young, gay black men will be HIV-positive in their lifetime. There's work to do. Thankfully, there's also a path forward because of those who've come before us. Here Media is humbled and honored to help remember them."
On Dec. 1, The Advocate will host "Voices of Hope," a community event to inspire the future and remember the past at the Jim and Eleanor Randall Grand Hall of the Annenberg Center from 5:30 to 7 p.m. In addition to Grindley, the evening will include remarks from Here Media CEO Paul Colichman, Beverly Hills City Councilmember and former mayor Lili Bosse, Beverly Hills community leader Michael Libow, actor and advocate Mel England, Olympic gold medalist and advocate Greg Louganis and Gerald Garth, the Black AIDS Institute's programs coordinator.
Those interested in attending can RSVP online.
The AIDS Memorial Quilt was created by the NAMES Project, which began in San Francisco in June of 1987 when a group of strangers wanted to create a memorial for their loved ones who had died of AIDS and help people understand the devastating impact of the disease. This powerful visual reminder of the AIDS pandemic today includes more than 48,000 individual 3-by-6-foot memorial panels, with portions constantly on display around the country.