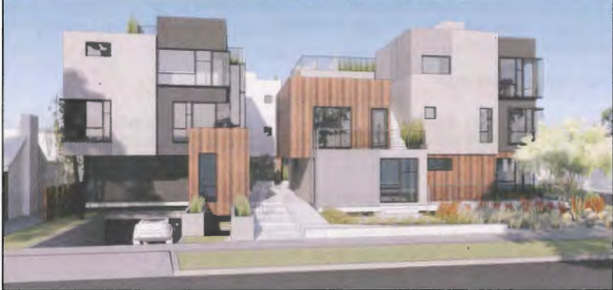 The West Hollywood Planning Commission will consider Thursday a proposed development on the corner of Martel Avenue and Romaine Street that will require eviction of tenants in six rent-stabilized apartments.
The three-story building at 1016 Martel Ave. would replace six existing rent-stabilized apartments in three buildings with 11 condominium units on Martel and Romaine. Rather than provide housing on site for low- and moderate-income people, the developer has chosen to contribute to a city fund to build affordable housing. The developer is identified on city documents as several limited liability corporations all with connections to David and Kiarash Neman.
The city's Community Development Department staff recommends that the Planning Commission approve the project. The developer must seek the commission's approval because it wants several things that don't comply with existing rules for the residential zone in which it will be constructed. For example, it is asking that the city let it increase the size of each unit from the maximum of 1,500 square feet to 1,650 square feet. It also is asking for slight reductions in the distance required from the boundaries of the lots on which the project will be built.
In addition, the developer is seeking incentives in exchange for incorporating a courtyard into the project. One is to allow it to size nine of the 27 parking spaces for compact cars. Compact car spaces normally are not allowed for residential buildings.
The developer must comply with the state's Ellis Act to evict the rent-stabilized tenants. That will require paying relocation fees to each tenant.
The commission will meet in the City Council Chambers at 625 N. San Vicente Blvd. south of Santa Monica.